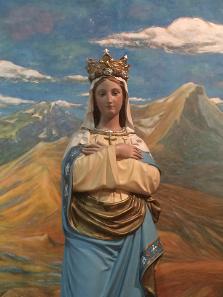 4th Sunday of Easter (Year B), 22.04.2018
The funeral arrangements for + Terry Boyd. Reception of the body into the Church on Tuesday 1st May at 5pm and the funeral mass will be celebrated on Wednesday 2nd May at 10.30am, followed by burial at Rainham Cemetery.
Please pray for +Olukemi Alao whose anniversary is THIS Sunday. May she rest in peace
The Lectors for NEXT weekend 28/29th April are: Saturday 6.00 pm – Frank / Sunday 9.00am – Daniel / 11am –Toyin / N.B. When you arrive OR IF you are replacing anybody, PLEASE let the priest know you are here! Flower Arranger:
Youth Camp teenagers in age of 14 -18. Storrington Priory, organised by Chemin Neuf Community, Fr Kris would like to take a group from the parish. Dates: 22 - 27 July 2018. If interested please contact Fr Kris as soon as possible.
If you are thinking of having your child baptised in the near future, please contact one of the priests to make the necessary arrangements. You must bring the following: Your child's Birth Certificate, and proof that at least one parent is a Catholic Your Baptismal, Confirmation certificate; or a letter from the parish where you grew up that confirms you are Catholic. If you live outside our parish you must get written permission from your parish priest to have your child baptized at La Salette. Next Baptism preparation will be on Monday 30th April at 7.00pm, all parents who are planning to baptised their child in the near future must come to the session.
THE LA SALETTE SOCIAL CLUB (www.lasalettecatholicsocialclub.weebly.com) Mick's next Quiz will be held THIS Thursday 26th April at 8.30pm. Barrie & Ed's next Quiz will be held on Friday MAY 11th at 8.30pm. Do come along and test your wits – keep your brain active! Sunday evening BINGO in the Lounge 7.30 pm for 8 pm. The Club Lotto is held on Sunday evening. To be in with a chance, collect an envelope in the Club, OR in the PORCH of the church, select 3 numbers from 24, put a £1 inside and place it in the Box provided in the CLUB! IF your numbers come up, from the 4 drawn you win. YOU could be lucky this week, winning part of what is taken in THIS Sunday! PLEASE do PRINT your NAME on the envelope, with contact details!
COUNTRY MUSIC CLUB: Monthly on Thursdays 10th May 8 -11pm in La Salette Hall, Come and Mosey on down! Tickets £5. Next date to be announced.
LA SALETTE 5921 DRAW. The Winners this FINAL week of our 3rd Quarter were A58 & B58 who both win £25. To those who pay Quarterly, your next payment is now OVERDUE! We now have 21 Vacancies. Would you care to take on another Number? Or could you get a Friend or Family Member to join. How about joining your fellow parishioners in this 'Fundraising venture'? A chance each week to win £25, at odds of 59 to 1; hence the title. Forms are available in the porch [£13 per quarter]. NOW is a good time to join!
Last weekend's Collections: Envelopes - £ 604-00 / Newspapers £ 4-00 /Loose Plate - £ 720-90 / Candles £ 62-55 // There is a retiring collection THIS Weekend for 'Promotion of Vocations'
Do you pay Income Tax? Most of us do. Do you put a regular amount of money in the Loose Plate each week? Can you find time for a brief phone call? 522997 speak to John. IF you can answer yes to these questions you can join the GIFT AID SCHEME. Your giving will increase by 25p in the pound, helping to create a substantial income for OUR parish. N.B. There is NO extra cost to you! IF for instance the Loose last week had been in envelopes, OUR Parish could have received an Extra £ 180. PLEASE do give it some thought!
REFRAME a Catholic Voices initiative Coming to the Diocese of Brentwood. Find out more about the programme by coming to our Workshop days. It's tough when you're asked about a controversial issue. Reframe is an inspiring and practical experience of applying the wisdom and genius of the heart of the Gospel to 'hot-button' and relevant topics. Engaging and well-trained speakers want to share the experience of Catholic Voices sharing the Church's story in the media and help ordinary Catholics to change controversy into an opportunity to share the Church's story in your conversations at work and at home. Saturday 28 April 10 am – 3 pm at St John Payne School, Chelmsford https://doodle.com/poll/xcatfin63p9e57d4 to sign up or Saturday 2 June 10 am – 3 pm at The Campion School, Hornchurch https://doodle.com/poll/zhmvqkyfyvi8shc5 to sign up
Enterprise have the following employment opportunities based at St Peter's Catholic Primary School in Billericay: 1. Cleaning operative - Monday to Friday 15.30pm to 17.30pm. To carry out cleaning duties within the school. Vacuuming, dusting and general cleaning. Available now. 2. Site Caretaker/Cleaning Operative - Monday to Friday 07.00am to 10.30am then 13.30pm to 18.00pm. Position becomes available July 20th 2018. For further details or to apply please contact Joanne Daniels, Account Manager Enterprise Support Services UK Ltd on 07912 732632
A fantastic opportunity has arisen at All Saints Catholic School Dagenham. School chaplain (scale 4 pt 18-21 £16,945 - £18,653 pro rata ) term time only. Job description and person specification are on the website www.allsaintsschool.co.uk or can be obtained by emailing office@allsaintsschool.co.uk
Please continue to pray for the sick & infirm: Cecelia Dunning, Nora Gaiger, Donna Gentle, Eddie Ryan, Ann & Paul Mitchell, Tony&Maureen O'Keefe, Lorraine Stringer, Bernadette Sullivan, Doris Youlden. May they feel the Lord's comforting presence with them at all times.
Vocations Weekend for young women (20s and 30s) Theme: Discerning God's Call in my life Dates: 25-27 May 2018. Location: Liverpool. The weekend is organized by the sisters, Faithful Companions of Jesus (FCJ). There will be input from the FCJ sisters on different aspects of vowed life, and time for prayer, reflection and discussion with other young women who are also considering a vocation to religious life. It's an opportunity to live community life for a weekend and meet some sisters! For more information contact Sr Lynne fcJ at lynnefcj@hotmail.com or visit our website www.fcjsisters.org
Rosary on the Coast for Faith, Life and Peace – 29th April 2018 at 3pm. Website: www.rosaryonthecoast.co.uk The Rosary on the Coast event in the British Isles being held on 29th April which you may have already heard about. This is a day of pilgrimage and prayer for the re-flourishing of our Faith, for the grace to build a culture of Life and for true Peace to reign in the hearts of all peoples and nations. The summary attached outlines the information that is available on the Rosary on the Coast website www.rosaryonthecoast.co.uk including the interactive map and form and the context of the prayers for faith, life and peace.