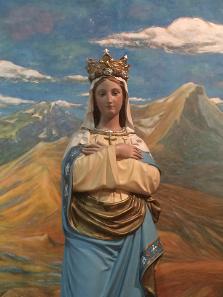 28th Sunday (year C), 13.10.2019
The month of October is dedicated to the Most Holy Rosary. Why not make a special effort to pray the rosary during this month? As Pope emeritus Benedict XVI beautifully reminds us: "...the Holy Rosary is not a pious practice banished to the past, like prayers of other times thought of with nostalgia. Instead, the Rosary is experiencing a new springtime. Without a doubt, this is one of the most eloquent signs of love that the young generation nourish for Jesus and his Mother, Mary. In the current world that is so fragmented, this prayer helps to put Christ at the centre, as the Virgin did, who meditated on all that was said about her Son, and also what he did and said. When reciting the Rosary, the important and meaningful moments of salvation history are relived. The various steps of Christ's mission are traced. With Mary the heart is oriented toward the mystery of Jesus. Christ is put at the centre of our life, of our time, of our city, through the contemplation and meditation of his holy mysteries of joy, light, sorrow and glory." Christmas nativity: Rehearsals will continue EVERY Tuesday from 4.30pm in the Church. We are looking for a group of parents who will help out, to organize 'Fr Christmas' for children after the Family Mass on Christmas Eve. If you can help out please contact one of the priests after mass.
LA SALETTE - PARISH BAZAAR: Saturday 9th NOVEMBER from 1.00pm / Fr Mariusz' Raffle tickets on sale this weekend. Thanks for your support. / Tickets for the Main Raffle are available in the Porch! MANY THANKS to all those who have donated Prizes. We are in DESPERATE need of the following: CHOCOLATE for the 'Chocoholics' Stall BOOKS for the Book Stall / CAKES [pref: 'Homemade] for the Cake Stall [bring on Friday evening] / ITEMS-in good, condition for the AUCTION / BOTTLES – of anything [Preferably alcoholic] for the Bottle Stall / ITEMS for the 'Lucky-Dip' // Bazaar Stall holders please collect a letter from the sacristy.
A Message from Fr Mariusz for parents of children in Year 6: In the autumn term, you will be required to apply for a secondary school place for your child for September 2020. If your child is a baptized Catholic and you are intending to apply for one or more Catholic secondary schools, you will be required to obtain a Certificate of Catholic Practice from the priest of the church where you normally attend Sunday Mass. If you are intending to ask me for this certificate, it is most important that I know who you and your child are, and that I know that it is your usual custom to attend weekly Sunday Mass (this includes Saturday evening Mass.) Dates for signing the forms are the following: This Saturday 12th October AFTER evening mass, and Monday 14th October from 6pm-7pm. Important: Please bring a baptism and First Communion certificate with you.
November Remembrance Book: In November we remember those who have passed away by Praying and offering Masses for them. Please write the names of those you wish to be included in our special prayers in November and for whom Masses will be offered. All Souls Remembrance envelopes are now in the porch. Place return it by Tuesday 29th October.
Fun! Enjoy! A 'CHARITY CEILIDH' (dance) in aid of MARY'S MEALS, is to be held on Friday 29th November in La Salette Parish Hall, 7.30 for 8pm start. Tickets £5. Mary's Meals Havering Group have undertaken to raise £2000 for a school in Liberia. Please support our fund-raising event. ANOTHER 40 Backpacks were sent off this week. (a total of 215 this year!!!)
YOUR PRAYERS ARE ASKED FOR: Jane Arinze, Celia Dunning, Jim O'Hanlon, Joan Lucey, Christopher Muthike, Eileen Pereira, Lorraine Stringer, and anyone else who is suffering with anything debilitating at this time. May they feel the comforting presence of the Lord with them at all times.
THE LA SALETTE SOCIAL CLUB (www.lasalettecatholicsocialclub.weebly.com). Mick's Quiz will be held on Thursday 31stOctober at 8.30pm. Barrie's next Quiz will be held on Friday 8th November at 8.30pm. Sunday evening BINGO in the Lounge at 7.30pm. The Club Lotto is held on Sunday evening. To be in with a chance, collect an envelope in the Club, OR in the PORCH of the church, select 3 numbers from 24, put a £1 inside and place it in the Box provided in the CLUB! IF your numbers come up, from the 4 drawn you win. YOU could be lucky this week, winning part of what is taken in THIS Sunday! PLEASE do PRINT your NAME on the envelope, with contact details!
LA SALETTE 5921 DRAW - 4th Quarter: The Winners this 11th week, were A12 & B12 who both win £25. We have 27 vacancies at the moment, – See list in Porch – Pick your own No! WHY not join us now, as Our New Year begins on 30th of this month. A Good Time to join. You will also be eligible for our next Annual Draw of 4 prizes: £400, £300, £200 and £100, which takes place in November 2020. A REMINDER: This quarter finishes in 2 weeks' time! Then our NEW YEAR (for 5921) Begins on Wednesday 30th October! Some members pay a year £52 in one go, others Quarterly, It's up to you!
The collection for last Weekend: Newspapers: £ 6-57 / Envelopes: £ 444-00 / Candles: £ 78-84 / Loose: £ 724-67 // 'HARVEST FAST DAY' £ 246-61 // There is a 'Retiring Collection' THIS weekend for 'Prisoners Sunday' /// IF the loose money in the Collection had been in envelopes, our Church could have received an Extra £181! Why not join our GIFT AID SCHEME. Many thanks to the Ladies who have asked to join the Gift Aid Scheme. Are you a TAXPAYER? If so why not join your fellow Parishioners and join the Scheme! Please get in touch with John Burke, the gift aid organizer, on 522997 or email rainham@dioceseofbrentwood.org