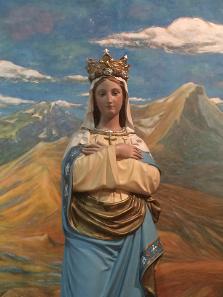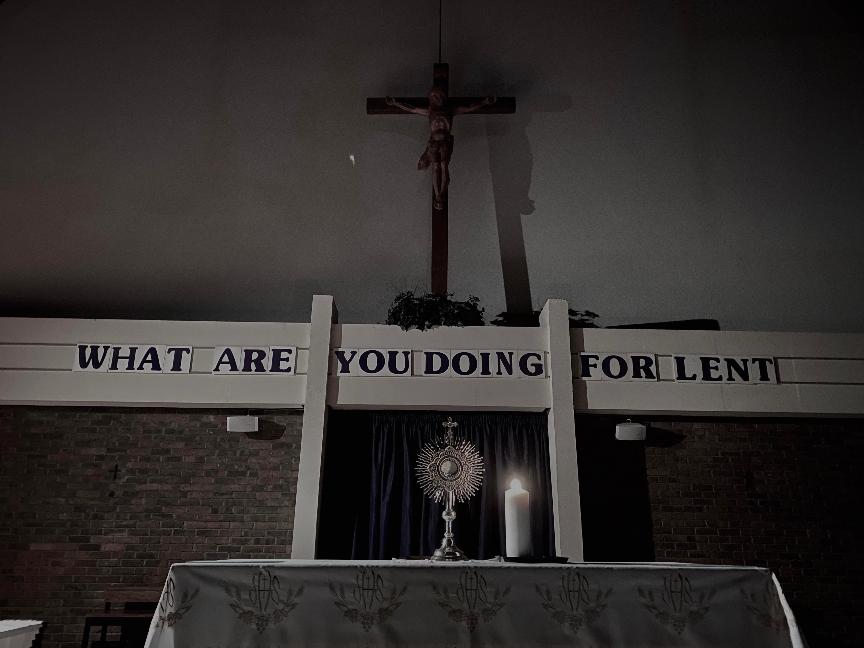 Due to the most recent government measures, La Salette Church will remain closed until further notice.
Dear Parishioners, We have already become 'a different sort of church' in unprecedented ways. The very place in which the body of Christ finds its identity, offers prayer, and receives solace in time of crisis—that is, the church building—is not available to us, and, as in the early days of our faith, public gatherings of Christians outside the home are forbidden. Nevertheless, we are finding ways to join in prayer and to recognise we are all buried with Christ by baptism into his death, that we might walk in newness of life. The present situation does not diminish the joy we have been granted in the resurrection, but it will be lived out this year in different ways. Holy Week and Easter, in particular, will give us opportunities to reflect on all of these matters. In the commemoration of the passion, death, and resurrection of our Lord Jesus Christ, we explore who we are and our relationship to the God who loves us. We are enabled to realise, that everything that we have that is good is a gift from God and not our right as we often tempted to think.
As we will celebrate Holy Week very differently this year, most of us self-isolating at our homes, please be assured of our prayers for you and your families and friends, may the Lord through the intersession of Our Lady of La Salette protect you all in this difficult time. We want to let you know the following times your priests will celebrate Easter Triduum this week. Please join us in your spirit in these services. Maundy Thursday Mass at 7.30pm / Good Friday Service of the cross at 3.00pm / Stations of the Cross we join pope Francis live streaming from Vatican / Easter Vigil Mass at 7.30pm / Easter Day Mass of Resurrection at 9.00am // Bp Alan will celebrate the Easter Triduum (live-streamed) at Wickford Parish (www.wickfordcatholic.com/live-streaming) at the following times: Mass of the Lord's Supper (Maundy Thursday)- 7.30pm / Good Friday- 3.00pm / Easter Vigil- 8.30pm
Prayer against the Coronavirus. Most Glorious Queen of Heaven & Mother of God, You whom the Blessed Trinity has crowned with unequalled glory. You are the Queen over all God's Creation. I place myself and all my loved ones under the power, protection and sovereignty of your grace. Under the protection of your grace and through your immense intercessory power, I ask you to spare us all from the effects of the coronavirus. Dearest Mother, Our Lady of La Salette, we, your children in Christ Jesus, ask you to obtain for us an end to the spread of the virus. Through Christ our Lord. Our Father…. Hail Mary…..
A Prayer for our Healthcare workers during the Coronavirus. Loving God, we place into your care all our doctors, nurses and healthcare workers. Give them courage of heart and strength of mind and body. Keep them safe from harm. May they know our deep gratitude for all they are doing to heal and help those affected by the coronavirus. God of all consolation may they know your protection and peace. Bless them in these challenging days and bless their families. Amen.
If you wish support our parish. The online donation facility to our parish is now available, and can be accessed via the Diocesan website: www.dioceseofbrentwood.net/donations/rainham Thank you for your generous continued financial support in this difficult time.
The parish office. Due to changing situation, a decision has been taken to close the parish office for the coming weeks. In cases of emergency only, please call 01708552897 or mobile no 07528744842. You can email us rainham@dioceseofbrentwood.org All updated information will be posted on the parish website.
Mass Intentions. During this time when public Masses not being celebrated, if you had a Mass intention booked for a particular date, please be assured that the Mass intention will still be offered privately by a Priest. Mass intentions will be published on the parish website. If you want to book a mass intention, please place your intention to an envelope with your offering and post it through the letter box in the presbytery.
Masses streamed online. Catholic Church of ss. Peter&Paul, Ilford, Mass on Sunday at 9.30am / Monday to Friday at 9.00am - to watch live, visit this LINK. // Daily Mass posted at 12.15 (UK time) on www.wordonfire.org/daily-mass // Masses and prayers from many churches to watch online: www.churchservices.tv
Spiritual communion prayer: My Jesus, I believe that you are present in the most Blessed Sacrament. I love You above all things and I desire to receive You into my soul. Since I cannot now receive You sacramentally, come at least spiritually into my heart. I embrace You as if You were already there, and unite myself wholly to You. Never permit me to be separated from You.
Vatican Decree on Easter Celebrations. Please visit THIS LINK.
Decree of the Apostolic Penitentiary on the granting of special Indulgences to the faithful in the current pandemic: open THIS LINK.
Dear Parishioners, please be aware to the following: PHISHING EMAILS/FAKE TEXT MESSAGES & APPS. There are currently numerous bogus emails and text messages circulating, appearing to come from official bodies, such as the Government, World Health Organisation and US Centre for Disease control. They contain links which are designed to download malicious software (i.e. viruses) to your device, or to take you to a website that will collect your personal and financial details. There are a variety of forms these emails can take, some of which are shown below. These can include: Offering a tax rebate / Demanding payment of a fine / Asking for donations / Linking to a map of the spread of Coronavirus.
The advice remains the same – if an email is unexpected do not click on any links, simply delete the email. Use the ABC approach: Never Assume they are legitimate. Never Believe they are legitimate. Always Confirm using a trusted number or asking friends and family.
Fake Products/Websites. A man has already appeared in court for making fake coronavirus testing/treatment kits and selling them worldwide. These kits contain harmful chemicals, and police are warning anyone who had bought one of these kits not to use it. Report to Action Fraud, quoting "Trinity CV19 treatment kits". During this time, be aware of fake websites and suspicious links. Criminals will advertise products they know to be in short supply, such as hand sanitiser, face masks and 'treatments'. Claims like '100% safe', 'No side effects' and 'Quick results' should be warning signs.
Fake Emails. There are a number of fake emails also circulating claiming to be from health organisations (such as the World Health Organisation or US Centre for Disease Control), with attached 'safety advice' which when clicked downloads malware to infect the device. Ensure you check where an email has come from – is the email address suspicious? Never click on any suspicious links or open any documents on emails that you were not expecting – do not let your curiosity get the better of you!
Elderly individuals targeted by doorstep scammers.The elderly are being increasingly targeted by doorstep scammers due to their increased isolation from family and friends. Criminals are posing as police and health officials, sometimes offering to vary out a coronavirus test on their doorstep in exchange for cash. Be vigilant. As always, do not accept offers on the doorstep. Always confirm who the person is using a trusted number – genuine officials will always wait.
Thieves offering to shop for the elderly and then keeping their money. Thieves posing as good Samaritans are offering to complete shopping trips on behalf of the elderly, before keeping he money or bank cards that are handed over. Treat such invitations with caution. Never hand over your bank card or details. If vulnerable people are using others to do their shopping, ensure it is someone they know or from a trusted source.
Pension Exploitation. Pension savers have been warned to be extra vigilant of criminals seeking to prey on people anxieties amid the pandemic. As markets are affected and people seek to increase their savings, it may make people look to make snap decisions that could have serious consequences. As always, the advice remains – do not respond to cold callers. Take your time to think things through carefully and do your own research (even if you are being offered a 'limited time deal'). If something is too good to be true – it usually is!!
If you or someone you know is vulnerable and has been a victim of fraud, please call the Police on 101.Report fraud or attempted fraud by contacting Action Fraud at www.actionfraud.police.uk or call 0300 123 2040.