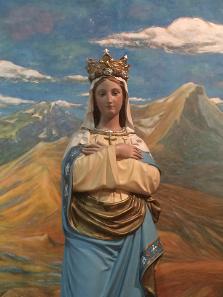 the Assumption (year C), 14.08.2022
Funeral Mass for Susan CurtisRIP: Friday 19 August at 12.15, followed by burial at Upminster Cemetery at 2.00pm. May she rest in peace.
**
Please Note. There is No Newsletter until September. All mass intentions and important notices will be displayed at the church entrance. We wish everybody safe and happy holidays.
**
GiftAid We would like to thank those parishioners who donate through the GiftAid scheme. At no extra cost to you the parish has received a tax refund of £13,000 for last year. Those who pay tax and give regularly to the loose plate might like to consider joining GiftAid. Thanks for your continued generous financial support, big thanks to John Burke and Anne Slorach our GiftAid organisers.
**
Please keep in your prayers all those affected by the damage and trauma caused as a result of the recent devastating fires.
**
Wennington Fire - how we can help. I have written to our local councillor Matthew Stanton to ask how our parish community can help out to people who are affected by fire. Please see below Matthew's reply: Father Mariusz; I have spoken to Havering Council, and they have said that they do not require any more physical donations, however they need volunteers to sort through donations. This is being organised through the Havering Volunteer Centre: Havering Volunteer Centre, Community Reach House, 32-34 The High Street, Romford RM1 1HR, Tel: 01708 922214, Email: volunteering@haveringvc.org.uk // Also, any donations of money can visit THIS LINK
**
ALTAR SERVERS. There will not be a rota for altar servers during the summer holidays BUT please volunteer at the masses you attend as the Priests cannot be left without servers. Thank you.
**
Baptism Preparation. Please note NEXT baptism preparation will be in September.
**
Eucharist Ministers and Flower Rota. Please collect your new July –October Rota from the sacristy. There are some changes to the July Rota.
**
VISIT OF RELICS OF ST BERNADETTE In September and October this year, the relics of St Bernadette will journey on pilgrimage to England, Scotland, and Wales for the very first time. This once in a lifetime event will provide an opportunity for people
of all ages and backgrounds to experience the special gifts and charisms of Lourdes, in a church or cathedral near them. The relics will be at Brentwood Cathedral from 11.00 a.m. Sunday 16th until Monday 17th October at 12 noon
**
VINCENTIAN VOLUNTEERS are Catholic young people aged 18-35, from all over the world, who commit a year of their lives to the service of vulnerable people. During their year with us, they live in a community of three or four people and engage in
voluntary work in partnership with other, well known charity organisations in order to help the impoverished, the homeless, the disabled, refugees and those suffering with addictions within the local community. We are still recruiting for 2022/23 (September 2022 to July 2023) for more details visit https://www.vincentianvolunteers.org.uk/
**
Children's Liturgy. It is hoped to restart Children's Liturgy at the 11.00am Sunday Mass from September but we are very short of helpers. Parents, if you would like to be involved in your child's understanding of the liturgy, please volunteer as soon as possible so that DBS forms can be completed before the summer holidays.
**
MASS INTENTIONS. Every day in the parish Holy Mass is offered for various intentions; these are usually at the request of you the parishioners. Most intentions are for deceased loved ones, anniversaries, etc. The origin of the Mass Stipend is very ancient, and goes back to making provision for the priest for one day, as they do not earn a salary as such. At present we only have about two weeks of Mass Intentions booked up. If any parishioner would like a mass intention for any occasion whatsoever, e.g. deceased, birthdays, anniversaries, sick, etc. please see one of the priests after mass. Thank you
**
Please pray for the sick of the Parish, at home or in hospital. Alda Allen, Theresa Anatole, Mary Bullivant, Elaine Brown, Cecelia Dunning, Eugene Hempenstall, David Kowalski, Harry O'Connor, Jean Shaw.
**
The Visiting of the Sick by our Priests. If you, or a member of your family, would like a visit, please let one of our priests know.
**
La Salette Club New Opening Hours: Friday 7pm-11pm /Saturday 12pm -11pm / Sunday 12pm-10.30pm / Club is closed from Monday to Thursday // Mick's next Quiz will be held on Thursday 28th July at 8.30pm / Barrie's next Quiz will be held on Friday 12th August 8.30pm /// Saturday Entertainment – various Groups each week. / Sunday evening BINGO in the Lounge at 7.30pm.
**