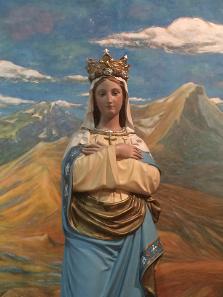 2nd Sunday (year A), 19.01.2020
RCIA Programme: 3 candidates Anne Ndungu, Megan Slatterry and Lesley Foley will be received into Full Communion with the Catholic Faith at Easter Vigil this year. They will be presented to our parish community this Sunday at 11.00am mass. Please keep them in your prayers.
On Sunday 2nd February at 11.00am mass four new Eucharistic Ministers will be commissioned; James Bergin, Nora & Terry Davie and Joan Mendes. We wish them God's blessing on their chosen ministry.
Please pray for Peggy Dove who died recently. The Funeral mass will take place on Monday 27th at 9.15am, reception on Sunday at 7.30pm. May Peggy now rest in peace.
The NEW 'FLOWER ARRANGER'S ROTA' January to May 2020, ALSO the new 'CLEANING ROTA' are BOTH available in the Sacristy.
Lighting Church Candles: Children should never be unaccompanied in the area of the votive candles on the side of the altar. Parents must be with their children in this area at all times for their safety. This is a Health & Safety issue and must be followed at all times. Thank you!
For those Eucharistic Ministers who couldn't make the meeting on Monday, your New Rotas are in the Sacristy. Take CARE with the Rota which runs from 1st until 23rd of February. Also the NEW E.Ms Rota, which begins on 29th Feb/1st March.
Our Bishop, Alan Williams will be making his Pastoral Visit to our Parish on Wednesday 5th February. He will visit our School in the afternoon, and then he will celebrate Mass at 7.00pm with the sacrament of confirmation to our 29 young parishioners. All parishioners are invited to join us in this important day for our community, please make an effort to be there.
Baptism Preparation: If you are thinking of having your child baptized in the near future, you need to attend a Baptism Preparation Class. Next baptism preparation will be THIS Wednesday 22nd January at 6.30pm in the meeting room. Please contact one of the priests to register for the baptism preparation. You must be a registered member of the parish, attend Sunday Mass regularly, and be known to the priest. Please bring the following: Proof that at least one parent is a Catholic, your Baptismal, Confirmation certificate; or a letter from the parish where you grew up, which confirms you are Catholic. If you live outside our parish you must get written permission from your parish priest to have your child baptized at La Salette.
The Gospel of Matthew. The Sunday lectionary gospel for 2020 is the Gospel of Matthew. Over two evenings Fr Adrian will present a survey of the whole gospel and point to the particular insights this evangelist offers. Wednesday 29th January 2020 - 7.00 p.m. to 8.30 p.m. Christ the Eternal High Priest Church, 410 Brentwood Road, Gidea Park RM2 6DH Admission free.
Pushchair/Pram: A full silver cross pram/pushchair set and car seat matching, perfect to suit from new born up is available to a parent/parents, further information from the parish office.
If you are feeling stressed, anxious, emotionally/psychologically broken or generally struggling with life, you are warmly invited to attend our healing service from 6-8pm Saturday 25th January and, in the future the last Saturday of the month, for emotional, psychological and spiritual healing. Everyone is welcome, nobody is perfect, anything is possible! For further information and future dates, visit our website www.english-martyrs.com To register email healingservice@english-martyrs.com You can find us at English Martyrs Church Hall 240 Alma Avenue Hornchurch RM12 6BJ
Church Gas heaters. It has recently come to our attention that a Gas Valve on two heaters has been turned off. PLEASE DO NOT interfere with the heaters, it can cause serious damage to the church heating system, but also it is a safety issue. Thank you for your co-operation in this matter.
Once again we would ask parents to remind their children of the correct position for their hands when receiving Communion. Most of them hold them below their waist! [as do some adults]. They should be held, one palm facing up cupped in the other, ie, level with their chest. Thank you!
Meetings in January: Club Directors Monday 20th at 7.45pm / RCIA Prog: Tuesday 21st at 7.30pm / Liturgy: Wednesday 22nd at 9.00am / Baptism Prep: Wednesday 22nd at 6.30pm
Please pray for the Sick members of our Parish Community: Cecelia Dunning, Jim O'Hanlon, Michael McDonnell, Vincent Baldachino, Eileen Oaks, Eileen Pereira, George Gospage, Patricia Rugg, Lorraine Stringer. May the Lord walk with them in their hour of need.
Social Club (www.lasalettecatholicsocialclub.weebly.com) Mick's next Quiz will be held on Thursday 30th January. Barrie's next Quiz will be held on Friday 14th February. Why not come along and give the old Brain an Airing! Sunday evening BINGO in the Lounge at 7.30pm. The Club Lotto is held on Sunday evening. To be in with a chance, collect an envelope in the Club, OR in the PORCH of the church, select 3 numbers from 24, put a £1 inside and place it in the Box provided in the CLUB! IF your numbers come up, from the 4 drawn you win. YOU could be lucky this week, winning part of what is taken in THIS Sunday! PLEASE do PRINT your NAME on the envelope, with contact details!
LA SALETTE 5921 – 2 weeks left in This Quarter! The Winners this 11th week were A28 and B28 who each win £25. We have 28 vacancies at the moment, – See list in Porch– Pick your own No! Why not join? It's only £1 per week! You can win £25.
Last week collection: Envelopes: £ 480-00 / Newspapers: £6-70 / Loose: £ 888-79 / Candles £96-22 // There is a Second Collection THIS weekend for Pax Christi. Had the Loose been in envelopes, Our Parish would have received an extra £222. Are you a TAXPAYER? If so why not join your fellow Parishioners and join the Scheme! Please get in touch with John Burke, the gift aid organizer, on 522997 or email rainham@dioceseofbrentwood.org