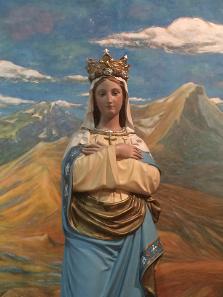 2nd Sunday Of Advent (Year A), 08.12.2019
THESE COMING WEEKS BEFORE CHRISTMAS: Are a time of shopping, partying, eating and drinking? This is as it should be because these human, worldly ways of preparing to celebrate Christmas remind us that in Jesus, God took human flesh and that He really did experience our earthly existence. But Advent is also an opportunity for us to prepare spiritually – to prepare to celebrate Christ's first coming into our world but also to prepare ourselves for that time when He will come again. Advent is that sacred time when we learn to accept God's gift, which is God himself, and to celebrate God's offer that has been revealed to us in the birth of his Son, Jesus Christ. However, we are also looking to the future. We are people of expectation and hope. It's so easy to get immersed in the busyness and demands of the present and forget the importance of having faith in the eternal future of God. We set our sights on the eternal.
The Earl Family thank Fr Mariusz, Fr Kris and the community, for the overwhelming love during Johnnie's last illness – a Mass will be offered for your intentions.
Our MONTHLY 'FOOD COLLECTION' is due to take place THIS weekend. 'I was hungry and you gave me to eat'
There is to be a 'POST-BAZAAR' RAFFLE, THIS weekend 7/8th Dec.
A BIG THANK YOU to all who have been supporting MARY'S MEALS. Last week's Ceilidh was enjoyed by those who participated and it raised nearly £1200. Along with donations received since September, we are now only £207 short of our commitment of £2000. Well done everyone.
NEW Altar Servers practices will be held each Sunday after the 9am Mass! OLD Altar Servers collect your NEW December/January rota NOW.
Dates for your diary - Advent Reconciliation Services: Monday 16th St Peter's Dagenham at 7.30pm / Tuesday 17th English Martyrs at 7.30pm / Friday 20th La Salette from 7.00pm-8.00pm.
Father Christmas: After Family Mass on Christmas Eve children will have an opportunity to see Fr Christmas in the Parish Hall. THIS weekend and for the next 2 weekends we will ask parents to put the name of your children on the list. Price £2.50p to cover the costs of a gift and this has to be paid in advance.
ADVENT FAMILY DAY Many thanks to all; Children + Parents + Crafters, who gave us a lovely day. A Cheque for £130 has been sent to Little Havens Hospice.
Brentwood Diocesan Directory ON SALE this weekend. Price £2.80p each.
Senior Citizen Concert at La Salette School: Carol sing-along concert will take place on Tuesday 17th December at 1.30pm. All senior citizens are welcome to come along.
Partnership Joint Event. In 2016 Bishop Alan set up the 'Stewards of the Gospel' with eighty or more people representing their parishes at diocesan level. A Vision Document was produced and one of the outcomes of this document was the formation of about thirty parish partnerships throughout the Diocese. As a result of this, La Salette has been linked with two local parishes, namely St Peter's, Dagenham and St Albans, Elm Park. We meet on a regular basis and are discussing ways forward for our individual parishes to work more closely together. At the end of this month an agreement between the parishes, already discussed agreed in Stewards of the Gospel meetings, will be signed by the Parish Priests. We have arranged a combined Parishes get-together at La Salette Church, carol singing THIS Friday 13th December from 7.00pm. to acknowledge and to celebrate our commitment to this partnership .There will be Cheese & biscuits will be served afterwards in the Club with the bar available.
8 days pilgrimage to La Salette and Lourdes 6th-13th June 2020. A pilgrimage is being organized to La Salette shrine and Lourdes. Full Package Price is £775 pp (based on min 30 passengers) inc Flights with British Airways from Heathrow Single rooms supplement: £140 pp / Travel Insurance £35 pp Package includes: 3 nights at La Salette and 4 nights at Lourdes - both on full board basis. Full services of English speak courier for the duration of the tour and services of coach and driver for whole duration of the tour. If you are interested please contact Fr Mariusz, only 35 places are booked. Please note non-refundable deposit of £250 is required by 15th December 2019.
Please pray for the Sick members of our Parish Community: Cecelia Dunning, Jim O'Hanlon, Michael McDonnell, Vincent Baldachino, Eileen Oaks, Eileen Pereira, Patricia Rugg, Lorraine Stringer. May the Lord walk with them in their hour of need.
Visiting the sick (including Anointing): If you, or anyone you know, needs a visit from a priest before Christmas (to have confession, receive Holy Communion or receive the sacrament of the sick), please speak with one of the priests after mass. The priests will be visiting the sick during the week before Christmas Day
THE LA SALETTE SOCIAL CLUB (www.lasalettecatholicsocialclub.weebly.com). Barrie's next Quiz will be held THIS Friday 13th December 2020. Sunday evening BINGO in the Lounge at 7.30pm. The Club Lotto is held on Sunday evening. To be in with a chance, collect an envelope in the Club, OR in the PORCH of the church, select 3 numbers from 24, put a £1 inside and place it in the Box provided in the CLUB! IF your numbers come up, from the 4 drawn you win. YOU could be lucky this week, winning part of what is taken in THIS Sunday! PLEASE do PRINT your NAME on the envelope, with contact details!
LA SALETTE 5921 DRAW – 1st Quarter. The Winner this 6th week of 'OUR NEW YEAR', Was A1 who wins £25 – B1 is vacant. This could have been you! We have 27 vacancies at the moment, – See list in Porch– Pick your own No! This Year's 'Loyalty Draw' will take place after 11am Mass NEXT SUNDAY8th, in the Meeting Room, where one of our Priests will make the Draw, of 4 prizes of £400, £300, £200 and £100. GOOD LUCK TO ALL!
The collection for last weekend: Newspapers: £ 24-91 / Envelopes: £ 575-50 / Candles: £ 71-93 / Loose: £ 831-35.