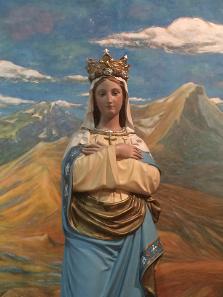 1st Sunday Of Advent (Year A), 27.11.2022
Havering Deanery Mass at La Salette. On Tuesday the 29th November the Morning Mass will be at 10.30am. It is a memorial Mass for all the deceased Priests of the Havering Deanery. Priests from Havering parishes will be joining us. Please come along.
**
Parish MINI-SALE 19/20th November. LAST WEEKEND! Winners of the main raffle have been contacted and prizes have been collected. A big thank you to all who supported the mini-Sale and to the organisers and helpers. A total of £2070.00 was raised by the event. THANK YOU! There will be a special Christmas raffle on Saturday and Sunday 10th /11th December after all masses.
**
NEW Altar Servers. Those children who have registered to become altar servers will start their training this week, the first Sunday of Advent, 27th November, after the 9am Mass. You are expected to attend the 9.00am Mass, and sit near the front where you can see what the altar servers do.
**
URGENT APPEAL! Volunteers wanted to HELP with setting up and running a YOUTH CLUB for the children in the Parish. If you are interested, Please give your name to the parish office
**
Christmas Altar Serving Altar servers should choose at which Mass they would like to serve and put their names on the list in the sacristy. Christmas Eve –5pm and Midnight, Christmas Day- 9am and 11am.
**
CHRISTMAS We have a fine selection of Cards, Calendars, Diaries and Candles now available in the Repository.
**
We are looking for a group of parents who would like to organise Fr Christmas in the parish hall after Family Mass on Christmas Eve. If you can help please let us know in the parish office. Thank you
**
Christmas Flowers. If you would like to donate a Christmas Poinsettia to add to the festive floral display, please bring to the church the weekend 17/18th December
**
Baptism Preparation. If you are thinking of having your child baptised in the near future, you need to attend a Baptism Preparation Class. Next baptism preparation will be on Wednesday 30th November at 6.00pm in the church. Please contact one of the priests to register for the baptism preparation. You must be a registered member of the parish, attend Sunday Mass regularly, and be known to the priest. Please bring the following: Proof that at least one parent is a Catholic, your Baptismal, Confirmation certificate; or a letter from the parish where you grew up, that confirms you are Catholic. If you live outside our parish you must get written permission from your parish priest to have your child baptized at La Salette.
**
Brentwood Directory on SALE at £2.50 each
**
Mission Boxes. Please bring your mission box and/or donation to the church as soon as possible. It can be given in at the Repository, to a Steward in the porch, or handed in to the Sacristy. Thank you for your continued support.
**
Do you have left-over foreign currency from your holidays? Mary's Meals would be pleased if you would donate any notes or coins, no matter how small, no matter what currency. It will be sent to Mary's Meals headquarters where it can be exchanged to help with feeding the thousands of starving children in so many countries.
**
Please note, regarding the Bins outside the Club. They are for the 'Sole Use' of the Club, to dispose of Empty Bottles, which then go for Recycling. They are NOT for ANY form of General Waste!
**
PARISH REGISTRATION If you attend La Salette Church or your circumstances have changed (address, phone number, family members, sacraments etc) please complete a new form available in the porch, so that parish records can be updated.
**
Please pray for the sick of the Parish, at home or in hospital: Alda Allen, Theresa Anatole, Mary Bullivant, Elaine Oberius, Cecelia Dunning, Eugene Hempenstall, David Kowalski, Harry O'Connor, Jean Shaw.
**
The Visiting of the Sick by our Priests. If you, or a member of your family, would like a visit, please let one of our priests know.
**
Offertory Collection. Banking cash continues to be a real problem for us due to the closure of many High Street branches therefore, if at all possible, please support the parish by setting up a standing order in place of giving cash. If you are a taxpayer, we would also be grateful if you would Gift Aid your offering. Some of you may wish to donate using your contactless card on the machine in the porch of the church, but it will not be Gift Aided.
**
La Salette Club New Opening Hours: Friday 7pm-11pm /Saturday 12pm -11pm / Sunday 12pm-10.30pm / Club is closed from Monday to Thursday // Mick's next Quiz will be held on Thursday 24th November at 8.30pm / Barrie's next Quiz will be held on Friday 9th December at 8.30pm /// Saturday Entertainment – various Groups each week. / Sunday evening BINGO in the Lounge at 7.30pm.
**