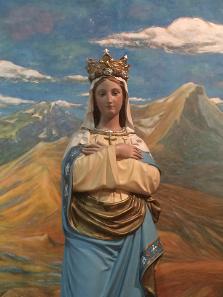 7th Sunday (year A), 23

.02.2020
ASH WEDNESDAY is a day of FASTING and ABSTINENCE. Masses at 9.30am and 7.30pm. The rules for fasting and abstinence for Catholics are the following: Every person 14 years or older must abstain from meat (and items made with meat) on Ash Wednesday, Good Friday, and all the Fridays. Every person between the age of 14 and 60) must fast on Ash Wednesday and Good Friday. Abstinence means not eating meat. Fasting means that one eats only one full meal in a day, with no food in-between meals. It is understood that two other meals, if one eats three meals a day, should not total one full meal. As from September 2011 Catholics in England and Wales are being asked to abstain from eating meat on Fridays as an act of penance, reviving a centuries-old tradition. Friday should be a day of penance as it is the day on which Christ has died. Friday penance also will be "a clear and distinctive mark" of Catholic identity and an act of common worship.
Eucharistic Ministers: Please note that your 'New Rotas' start on 29th Feb!
ALTAR SERVERS. There are still some rotas to be collected from the Sacristy.
Meetings in February: Parish Pastoral Council: THIS Monday 24th at 7.30pm / RCIA: Rite of Election in Brentwood Cathedral Sunday 1st March at 3.00pm. Nominations are required for the Vice Chairman of the Parish Council.
As from the month of March the Universe and the Tablet will no longer be available. IF you still wish to receive either of these, please see Fr Mariusz, who can give you the details of 'How to receive either one direct to your home'.
The Family, YOU have been supporting for the past 4 years by the monthly food collection, has been moved from the area and we have unfortunately lost touch. They were most grateful for your continued generosity. You may wish to continue to help those in need by donating food at your local Supermarket.
The Passage is a Christian Charity working with homeless people. Please support a St David's Day concert in aid of The Passage at Methodist Central Hall, Westminster on Friday 28 February at 7.00pm. The concert features the London Welsh Male Voice Choir with guest soloists Claire Jones (harp) and Aled Wyn Davies (tenor) and Guto Harri (Compère).Full details to book tickets are on the website www.passage.org.uk
Across is taking a pilgrimage to Lourdes via Jumbulance on 16th – 25th April 2020. We have a couple of spaces left for those that are sick, disabled or terminally ill. Across takes those that are unable to travel by normal means or without the help and support of the nurses and helpers. Anyone who wishes to nominate someone who meets this criteria or wishes to nominate themselves, should contact; Debbie Hourihan General Manager Across Tel: 020 3542 1800 Mobile: 07584-623472 or email Debbie@across.org.uk
POUSTINIA PROJECT. As we prepare to celebrate the Rededication of England as Mary's Dowry, the Community of Our Lady of Walsingham hopes to find benefactors who can support their 'Poustinia' project. With there being an ever-greater need for silence in today's world, many people are searching for space to enter into the silence of their hearts and listen to 'the still small voice of God' We need to raise £100,000 to build two shepherd's huts and develop prayer gardens around them at our convent, House of the Divine Will. If you know of anyone who can help please give them our contact details and ask to speak with Sr Camilla COLW (info@walsinghamcommunity.org or 01328 801018).
A Healing Service is taking place 6-8pm, Saturday 29th February for anyone in need of time for self-reflection. The evening comprises a warm and sociable welcome followed by guided opportunities for psychological and spiritual growth. The venue is English Martyrs church, 240 Alma Avenue, Hornchurch RM11 6BJ. Please contact Mandy on 07801470 516 or email healingservice@english-martyrs.com so that we have an idea of attendee numbers.
Rite of Election. NEXT Sunday our 3 candidates who will be received into the Catholic Church at Easter will be going for the Rite of Election with Bishop Alan in Brentwood Cathedral. Please keep them in your prayers.
Please pray for the Sick members of our Parish Community: Cecelia Dunning, Jim O'Hanlon, Michael McDonnell, Vincent Baldachino, Eileen Oaks, Eileen Pereira, Patricia Rugg, Lorraine Stringer. May the Lord walk with them in their hour of need.
LONDON MARATHON: Fr Marek Pabis MS (St Cedd's, Goodmayes) is running in the London Marathon in April 2020 on behalf of the Brentwood Catholic Children's Society. If you would like to support him, all you need to do is forward a donation to: https://uk.virginmoneygiving.com/MarekPabis2020
STATIONS OF THE CROSS. Traditionally during LENT we will be having Stations of the Cross as a way to pray and meditate on Christ's sacrifice for us, every Friday at 7.00pm followed by mass at 7.30pm. The following groups are asked to lead us into the Stations of the Cross: 28th February: Eucharistic Ministers / 6th March: Confirmation Group / 13th March: Lectors / 20th March: Wednesday Prayer Group / 27th March: La Salette School / 3rd April: Legion of Mary / 10th April: The priests.
THE LA SALETTE SOCIAL CLUB (www.lasalettecatholicsocialclub.weebly.com). Mick's next Quiz will be held on Thursday 27th February 8pm for 8.30pm. Barrie's next Quiz will be held on Friday 13th March 8pm for 8.30pm. Why not come along and give the old Brain an Airing! // Sunday evening BINGO in the Lounge at 7.30pm. The Club Lotto is held on Sunday evening. To be in with a chance, collect an envelope in the Club, OR in the PORCH of the church, select 3 numbers from 24, put a £1 inside and place it in the Box provided in the CLUB! IF your numbers come up, from the 4 drawn you win. YOU could be lucky this week, winning part of what is taken in THIS Sunday! PLEASE do PRINT your NAME on the envelope, with contact details!
Last week collection: Envelopes: £ 986-00 / Newspapers: £4-10 / Loose: £ 451-51 / Candles: £60-11 / 'Lourdes Helpers Pilgrimage Fund' £264.31 / N.B. There is a 'Retiring Collection' NEXT weekend for the Lent Fast Day! // Are you a TAXPAYER? If so why not join your fellow Parishioners and join the Scheme! Please get in touch with John Burke, the gift aid organizer, on 522997 or email rainham@dioceseofbrentwood.org
LA SALETTE 5921 DRAW: The Winners this 3rd week, were A10 & B10 who both win £25. We have 28 vacancies at the moment, – See list in Porch– Pick your own No! Why not join? It's only £1 per week! You can win £25