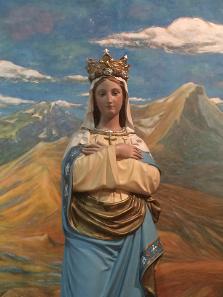 3rd Sunday In Ordinary Time (year B), 21.01.2018
A huge thank you for your kind support for the Traidcraft stall last weekend. We sold goods totaling £42.31 and received £25.01 in donations for CAFOD. Your continued support is very much appreciated.
Calling Parents or any willing Adult to help out with Children Liturgy on Sundays at 11.00am. We are looking for more helpers to join the rota. Please speak Steve or Julie.
If you are thinking of having your child baptized in the near future, please contact one of the priests to make the necessary arrangements. You must bring the following: Your child's Birth Certificate, and proof that at least one parent is a Catholic Your Baptismal, Confirmation certificate; or a letter from the parish where you grew up that confirms you are Catholic. If you live outside our parish you must get written permission from your parish priest to have your child baptized at La Salette. Next Baptism class will be on Monday 5th February at 7.00pm. IMPORTANT Please see one of the priests before you attend baptism preparation.
The Lectors for NEXT Weekend 27th / 28th January are: 6pm - Bridget / 9am - Olusegun / 11am - Frances // N.B. IF you are replacing anybody, PLEASE let the priest know you are here! Flower Arranger: Regina
ALTAR SERVERS: Please collect your Jan-Mar rota from the sacristy.
We still need more members to join our La Salette Church Choir, who sing at the 11am Mass. There is a regular choir practice on Sundays at 10 am. Please DO join us in this important ministry in our parish Community. PLEASE KNOW THAT YOU WILL BE MADE MOST WELCOME!
PLEASE NOTE: the New 'Church Cleaners' & the NEW 'Flower arrangers' Rotas are now available at the Sacristy! Also Altar servers.
Meetings in January: Confirmation Class THIS Sunday 21st at 3.00pm / Parish Council Monday 22nd at 7.30pm / RCIA Mtg Tuesday 23rd at 7.30pm / Governing Body Monday 29th at 6.30pm / Club Directors Monday 29th at 8.00pm
Vacancy – Finance Office in Brentwood. HR/Operations Officer (Payroll experience essential) required to support the Finance Office at Cathedral House, Brentwood. The role is part-time, working three days a week (21 hours). Interested please first contact finance-recruitment@dioceseofbrentwood.org for a copy of the job description and person specification. You should then send in your CV, with a covering letter demonstrating how your experience and skills match the essential requirements and attributes of the role as per the job description and person specification. Closing date for CVs/applications is Friday 2nd February 2018. Interviews week commencing 12th February 2018.
The Campion school: Cover Supervisor to work on a full-time basis from February 2018 or as soon as possible thereafter. Scale APTC 4 Spinal Point 18 £19,917 Pro Rata 30 hpw, term time only (39 wks per year) Application forms and a full job description are available on the school website www.thecampionschool.org.uk and should be returned to Mrs C Noddings, PA to the Headmaster via e.mail (cnoddings@thecampionschool.org) or post.
DOORS IN THE CHURCH: PLEASE NOTE: the OUTER Doors should be PUSHED inward, the INNER Doors should be PULLED towards you, and then, as you exit the opposite will apply! Failure to use them correctly, damages the working mechanism! THANK YOU in advance for your anticipated co-operation in this matter! N.B. There are STILL people doing the opposite!
Please continue to pray for the sick & infirm: Terry Boyd, Tom Burke Snr., Cecelia Dunning, Nora Gaiger, Donna Gentle, John Laviolette, Ann & Paul Mitchell, Christopher Muthike, Tony & Maureen O'Keefe, Lorraine Stringer, Bernadette Sullivan, Doris Youlden. May they feel the Lord's presence with them at all times.
THE LA SALETTE SOCIAL CLUB (www.lasalettecatholicsocialclub.weebly.com) Mick's next Quiz will be held on Thursday 25th Jan. at 8.30pm. Barrie & Ed's next Quiz will be held on Friday FEB. 9th at 8.30pm. Do come along and test your wits – keep your brain active! Sunday evening BINGO in the Lounge 7.30 pm for 8 pm. The Club Lotto is held on Sunday evening. To be in with a chance, collect an envelope in the Club, OR in the PORCH of the church, select 3 numbers from 24, put a £1 inside and place it in the Box provided in the CLUB! IF your numbers come up, from the 4 drawn you win. YOU could be lucky this week, winning part of what is taken in THIS Sunday! PLEASE do PRINT your NAME on the envelope, with contact details!
COUNTRY MUSIC CLUB: Monthly on Thursdays 8 -11pm in La Salette Hall, Come and Mosey on down! Tickets £5. Next will be on Thursday 15th February 2018
LA SALETTE 5921 DRAW Winners in the FINAL WEEK of our 1st Quarter were A46 and B46 who both win £25. How about joining your fellow parishioners in this 'Fundraising venture'? A chance each week to win £25, at odds of 59 to 1; hence the title. Forms are available in the porch [£13 per quarter]. NOW is a good time to join! Please make cheques payable to: LA SALETTE 5921 DRAW. CURRENT MEMBERS: YOUR NEXT PAYMENT is NOW DUE!
Last Sunday's Collection: Envelopes: £460-53 / Papers: £6-46 / Loose: £820-57 / Lights: £87-35 / Pax Christi: £153-63
Do you pay Income Tax? Most of us do. Do you put a regular amount of money in the Loose Plate each week? Can you find time for a brief phone call? 522997 speak to John. IF you can answer yes to these questions you can join the GIFT AID SCHEME. Your giving will increase by 20p in the pound, helping to create a substantial income for OUR parish. N.B. There is NO extra cost to you!