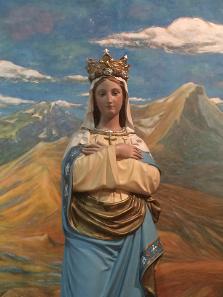 2nd Sunday of Advent (year C), 05.12.2021
Repository There is a wide selection of Cards and other Christmas items for sale . Buy now to avoid disappointment.
**
Baptism Preparation. If you are thinking of having your child baptised in the near future, please contact one of the priests to make the necessary arrangements. You must bring the following: Your child's Birth Certificate, and proof that at least one parent is a Catholic Your Baptismal, Confirmation certificate; or a letter from the parish where you grew up that confirms you are Catholic. If you live outside our parish you must have a written permission from your parish priest to have your child baptized at La Salette. Next Baptism preparation will be on Friday 10th December at 6.30pm parents please see one of the priests to register prior to the baptism prep session
**
Face Covering. Please continue to use face covering and sanitise your hands when you enter the church. Thanks for your co-operation.
**
All 'OLD' Altar Servers before March 2020. There will be a short refresher session after each of the masses (6pm, 9am, 11am) THIS weekend (4/5 December) for all those altar servers who were enrolled before the pandemic and who wish to continue to serve. If you do not sign in at one of these sessions it will be presumed you no longer wish to serve. Please meet in the Sacristy after Mass.
**
NEW CANDIDATES for Altar Servers. Training THIS Sunday after 9.00am mass. Enrolment in the Guild of St Stephen will be next Sunday, 12 December at the 11am Mass.
**
Calling all Mission Boxes! Time for counting – please bring Boxes or Donations to the Sacristy or give to Josie O'Brien. Thanking you all, in advance.
**
Advent Reconciliation Services. St Peter's, Dagenham: Monday 20th December at 7.30pm. / La Salette: Wednesday 22nd December at 7.00pm.
**
Christmas Masses at La Salette. Christmas Eve Family mass with Nativity presentation 5.00pm // Midnight mass starts with Carol singing at 11.30pm // Christmas Day masses at 9.00am and 11.00am (No evening mass on that day) // Sunday 26th Dec - Holy Family Feast masses at 9.00am and 11.00am with the blessing of Families
**
Offertory Collection. Fewer of us are carrying cash these days. As from this weekend some of you may wish to donate using your contactless card. There will be a CARD MACHINE (terminal) operated by one of the stewards in the porch of the church. If you wish to use this method the minimum donation has to be £5.00.(non-GiftAid only). Those who use envelopes please continue to do so.
**
FIVE BIBLE STUDIES ON THE ADVENT SUNDAY GOSPELS. Mauro Iannicelli will break-open the forthcoming Advent Sunday Gospels with in-depth teaching and stimulating questions. As a result, you will experience Sunday Mass in a new way! Four Wednesdays: 1 Dec | 8 Dec | 15 Dec | 22 Dec (7-8pm UK Time). Free of Charge | LIVE sessions on YouTube. Info & Registration: https://comeandsee.org/advent
**
Suggested guidelines for Mass stipends for 2022. As you are well aware there is no stipulated offering for a mass intention and a customary offering of £5 has been for more than 30 years. It is worth noting that the stipend is an offering to associate the donor with the sacrifice; a means to provide the requisites used for the Mass and, traditionally to keep the priest for a day. We ask you to consider a Mass stipend of £10 for the forthcoming year as your voluntary offering. Thank you for your generosity.
**
2 x Relief General Kitchen Assistants. APTC Scale 1 Point 1 – 3 (£11.01 to £11.40 per hour). Required as soon as possible to work on a relief basis in the first instance. Normally 10.00 hours per week, Monday-Friday 12.15 p.m. – 2.15 p.m. Current Food Hygiene Certificate preferred but not essential. Food handling experience preferred. This post is exempt from the provision of the Rehabilitation of Offenders Act 1974 and the successful applicants will be expected to undertake an enhanced disclosure. Please refer to the 'Job Vacancies' section of the school website for a Support Staff application form and further details can be provided by contacting the Catering Manager, Sharon Flynn, sflynn@mary.havering.sch.uk.
**
QR codes – La Salette Parish Offertory Giving. Due to the issues arising with respect to banking cash and the continued desire by many people to make donations in a cashless way, the diocese has created contactless giving using QR codes. See the posters displayed. All donations will be credited directly to the parish bank account. This is a quick and efficient way of supporting your parish and thank you for your continued financial support in any way you do. Please note there are QR Codes with Gift Aid and QR Codes without Gift Aid.
**
Please call us if you need to, or if you know someone who does need a priest. We may not know that you need a priest or are sick unless we are told. We are able to make emergency and end of life visits.
**
La Salette Club Opening times. Monday to Friday 7pm-11pm / Saturday 12pm – 11pm / Sunday 12pm – 10.30pm // Mick's next Quiz will be held on Thursday 25th November at 8.30pm / Barrie's next Quiz will be held on Friday 10th December at 8.30pm / Saturday Entertainment – various Groups each week. / Sunday evening BINGO in the Lounge at 7.30pm. // Please do come along to enjoy a drink, visitors are welcome! Members Subs are due at the present time. Why not become a Member.
**