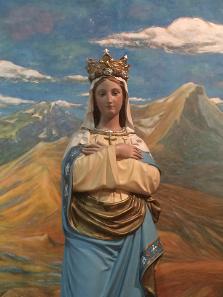 Our Lady of La Salette (Feast), 19.09.2021
This weekend in our parish Community we celebrate the Solemnity of Our Lady of La Salette. Today it's 175th anniversary of the Apparition of Our Lady of La Salette in France. We wish all parishioners, families, children an abundant share in the blessings flowing down from that Holy Mountain at La Salette.
**
If you want to test your knowledge about the story of La Salette we have "La Salette Quiz" for you THIS weekend. Please take a sheet with questions. Thank you for participating.
**
Prayer Group will resume their weekly meetings THIS Wednesday at 7.30pm in the main church, please join us if you can.
**
Baptism Preparation: If you are thinking of having your child baptized in the near future, you need to attend a Baptism Preparation Class. Next baptism preparation will be on Tuesday 5th October at 7.00pm in the church. Please contact one of the priests to register for the baptism preparation. You must be a registered member of the parish, attend Sunday Mass regularly, and be known to the priest. Please bring the following: Proof that at least one parent is a Catholic, your Baptismal, Confirmation certificate; or a letter from the parish where you grew up, which confirms you are Catholic. If you live outside our parish you must get written permission from your parish priest to have your child baptised at La Salette.
**
Altar Servers. This weekend September we will be taking registrations for Altar Serving after all masses for children who have made their First Holy Communion. If you are interested, please collect registration form from the sacristy.
**
First Communion 2022. Registration for the First Holy Communion Programme will take place on the weekend 25/26th September after masses and 27th September from 6.00pm. You must bring your child's baptism certificate on the day of registration. There will be NO more registrations after this date.
**
Parish Mini-Sale 23/24 October. As it's unlikely we will be able to have parish Bazaar this year, instead we planning to hold a parish mini-sale in October. We need help to organise one, if you can help out, please come to the meeting on Monday 27th September at 7.30pm in the meeting room.
**
La Salette School. We be having two open day sessions for prospective parents on 3rd November at 9.30am and 2pm - please confirm attendance with school. If your child was born between 01.09.2017 - 31.08.2018 please go to the school to complete registration form.
**
Certificate of Catholic Practise. Families who have been practising their faith by attending mass will receive a Certificate of Catholic practise. If you have not been practising your faith, please do not approach father for a certificate as he will not be able to provide you with this document, instead apply directly to the Catholic school of your choice. If you are applying for a non-Catholic school that requires evidence of religious practise and you have been practising your faith, please come to see father. Fr Mariusz will be available in the following times for parents to collect their Certificate of Catholic practise:
**
Secondary School Applications: Tuesday 19th October from 5.30pm- 7.00pm / Primary School Applications: Monday 15th November from 5.30pm-7.00pm
**
The Rite of Christian Initiation of Adults (RCIA) is the process in which adults wishing to become Roman Catholics (or adult Roman Catholics wishing to receive the sacrament of Confirmation) are gradually Introduced to the Catholic faith and way of life. Programme begins soon, if interested please contact Fr Mariusz.
**
The Ursuline Academy Ilford Open Evening - Year 7 Admissions 2022, Wednesday 6th October 6:00 pm – 8:00pm Tours from 6:00 pm Headteacher's talk at 7:00 pm. For more information please visit: www.uai.org.uk
**
October Youth Mass with One Hope Project - Thursday 7th October, Brentwood Cathedral. The BCYS invites all young people from around the Diocese to join us from 6pm where we will provide a meal, before we begin a FREE music workshop and performance from the incredible One Hope Project! This will be followed by monthly Youth Mass at 7:30pm, celebrated in the Cathedral where we will have invited Fr Paschal Uche to preach. More information on our website www.bcys.net, there is no need to book but please do let us know if you would like to bring a group by emailing gabriellafusi@dioceseofbrentwood.org
**
First Communion 2022. Registration for the First Holy Communion Programme will take place on the weekend 25/26th September after masses and 27th September from 6.00pm
**
QR codes – La Salette Parish Offertory Giving. Due to the issues arising with respect to banking cash and the continued desire by many people to make donations in a cashless way, the diocese has created contactless giving using QR codes. See the posters displayed. All donations will be credited directly to the parish bank account. This is a quick and efficient way of supporting your parish and thank you for your continued financial support in any way you do. Please note there are QR Codes with Gift Aid and QR Codes without Gift Aid.
**
Please call us if you need to, or if you know someone who does need a priest. We may not know that you need a priest or are sick unless we are told. We are able to make emergency and end of life visits.
**
La Salette Club Opening times. Monday to Friday 7pm-11pm / Saturday 12pm – 11pm / Sunday 12pm – 10.30pm