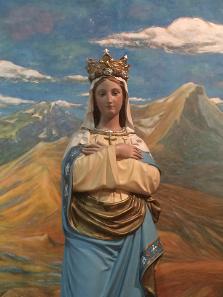 32nd Sunday (year C), 10.11.2019
Sunday, being 'Remembrance Day', we will gather by our Sacred Heart Statue at 10.50, for a short ceremony; before proceeding in to Mass.
November Remembrance Book In November we remember those who have passed away by Praying and offering Masses for them. Please write the names of those you wish to be included in our special prayers in November and for whom Masses will be offered. All Souls Remembrance envelopes are now in the porch.
Bag2School clothing collection will take place THIS Tuesday 12th November 9am. PLEASE 'DO NOT' bring clothes after 9.00am on that date.
Advent Craft afternoon: This will take place on Sunday 1st December from 2.00pm. Can we ask for anyone who would like to do a stall to let me know on 07946827254. Admission is £1.50 a child, all children should be with a responsible adult.
NEW Altar Servers practices will be held each Sunday after the 9am Mass starting this Sunday 10th November
The Legion of Mary will be holding a Mass, said at Rainham Cemetery on Saturday 23rd November at 12 noon, for all our Faithful Departed. All are welcome.
La Salette Primary School. If your child was born between 01/09/2015 and 31/08/2016 he/she will be due to start school in September 2020. Fr Mariusz will be signing the Certificate of Catholic Practice of practicing catholic parents THIS Monday 11th November between 6pm and 7pm 'ONLY'.
Fun! Enjoy! A 'CHARITY CEILIDH' (dance) in aid of MARY'S MEALS, is to be held on Friday 29th November in La Salette Parish Hall, 7.30 for 8pm start. Tickets £5. Mary's Meals Havering Group have undertaken to raise £2000 for a school in Liberia. Please support our fund-raising event. ANOTHER 40 Backpacks were sent off this week. (A total of 215 this year!!!)
The Campion School are holding their 'Senior Citizens Party' on Sunday 15th December – 1.30 to 6.00pm. Each parish is limited to 15 people. IF you would like to go, please give your name on a piece of paper to Joe Blogs
Lourdes Youth pilgrimage in July 2020. If you are interested in going on this pilgrimage with other young people of our diocese, please contact Fr Kris after mass. N.B. You must be at least in year 10 or above.
Partnership Joint Event. In 2016 Bishop Alan set up the 'Stewards of the Gospel' with eighty or more people representing their parishes at diocesan level. A Vision Document was produced and one of the outcomes of this document was the formation of about thirty parish partnerships throughout the Diocese. As a result of this, La Salette has been linked with two local parishes, namely St Peter's, Dagenham and St Albans, Elm Park. We meet on a regular basis and are discussing ways forward for our individual parishes to work more closely together. At the end of this month an agreement between the parishes, already discussed in the Stewards of the Gospel meetings, will be signed by the Parish Priests. We have arranged a combined Parishes get-together at La Salette Church, carol singing on Friday 13th December from 7.00pm. to acknowledge and to celebrate our commitment to this partnership .There will be Cheese & biscuits will be served afterwards in the Club with the bar available.
YOUR PRAYERS ARE ASKED FOR: Jane Arinze, Celia Dunning, Jim O'Hanlon, Eileen Pereira, Lorraine Stringer, and anyone else who is suffering with anything debilitating at this time. May they feel the comforting presence of the Lord with them at all times.
THE LA SALETTE SOCIAL CLUB (www.lasalettecatholicsocialclub.weebly.com). Mick's Quiz will be held on Thursday 28th November at 8.30pm. Barrie's next Quiz will be held on Friday 13th December. Sunday evening BINGO in the Lounge at 7.30pm. The Club Lotto is held on Sunday evening. To be in with a chance, collect an envelope in the Club, OR in the PORCH of the church, select 3 numbers from 24, put a £1 inside and place it in the Box provided in the CLUB! IF your numbers come up, from the 4 drawn you win. YOU could be lucky this week, winning part of what is taken in THIS Sunday! PLEASE do PRINT your NAME on the envelope, with contact details!
LA SALETTE 5921 DRAW – 1st Quarter. The Winners this 2nd week of 'OUR NEW YEAR', were A5 & B5 who both win £25. We have 27 vacancies at the moment, – See list in Porch – Pick your own No! WHY not join us now, 'Our' NEW YEAR (for 5921) began on Wednesday 30th October! A Good Time to join. You will also be eligible for our 2020 Annual Draw of 4 prizes: £400, £300, £200 and £100, which will take place in November 2020. Some members pay a year £52 in one go, others Quarterly, It's up to you!
The collection for last Weekend; Newspapers: £ 8-00 / Envelopes: £ 641-91 / Candles: £118-76 / Loose: £ 935-50 // Had the Loose been in envelopes, Our Parish would have received an extra £233. Many thanks to the Ladies who have asked to join the Gift Aid Scheme. Are you a TAXPAYER? If so why not join your fellow Parishioners and join the Scheme! Please get in touch with John Burke, the gift aid organizer, on 522997 or email: rainham@dioceseofbrentwood.org