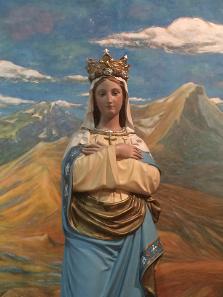 11th Sunday (year B), 13.04.2021
To ALL Eucharistic Ministers, can please collect your rota from the sacristy.
**
Thank youFollowing the announcement of the closure of the Catholic Universe and Catholic Times this week, Cardinal Nichols has offered his thanks to the owner and staff for their service to the mission and witness of the Catholic Church in this country. Cardinal Nichols said: This week sees the last edition of the Catholic Universe and the Catholic Times supplement. Universe Catholic Media Ltd has stopped trading with immediate effect. I receive this news with great sadness. It is an historic moment which comes as a 'sign of the times'. The Universe has served the Catholic community devotedly since 1860. But now no more. The current publishing market is difficult and the board, management and staff of Universe Media Group have made strenuous efforts to continue their operations. I thank, with all of my heart, all the staff for their unstinting service and commitment to the Catholic community in this country and beyond. For many years they have strived with every sinew to keep reporting and commenting on the Catholic Church, in full support of our mission to spread the Gospel and bear witness to our faith. I know that they have explored every avenue in trying to steer this operation through these most difficult times and circumstances. Again, on behalf of so many, I thank them for this valiant effort and commend them for their work.
**
"Lourdes at your Local" Talent Show! Do you think you could be worthy of Simon Cowell's golden buzzer?! We are looking for acts to share as part of our "Lourdes at your Local" Talent Show this Summer, which will be streamed online on Friday 30th July. Whether it's singing, dancing, magic, comedy or anything in-between, if you have a talent to share with the diocese please email gabriellafusi@dioceseofbrentwood.org and be prepared to send a video recording no later than Friday 2nd July. For more information on "Lourdes at Your Local" this Summer, please visit www.bcys.net/events
**
The Diocese of Brentwood Vicariate for Adult Formation will launch a new website this week. The website is called "Thresholds of Hope" and is inspired by St Pope John Paul II's appeal to humanity to cross the threshold of hope and come to know the living God. See The Thresholds of Hope Facebook page https://www.facebook.com/Thresholds-of-Hope-107248234841702 and if you can share this page that would be hugely appreciated. The website logo incorporates the idea of crossing a threshold with the image of steps and the flowering of hope with the images of three leaves that in turn symbolise the persons of the Blessed Trinity. Please pray for the work of formation and mission throughout the Church and for the Diocese of Brentwood's own contribution to this.
**
The Brentwood Catholic Children's Society is inviting parishioners across the Diocese to join in with their 'Relay 100' summer community event. This initiative is an opportunity to recommit ourselves to our work following the pandemic, to remind our community about the work we do, to reach families who may need our support and to raise some funds through sponsored walks, runs or cycles. We are looking for 100 individuals (or families within bubbles) to complete a 'leg' of our relay around the diocese; we have routes of varying distances so there is something to suit all abilities. Can you help us? To find out more, please contact Damian Dillon: ddillon@bccs.org.uk / 07912 308000 or visit https://www.bccs.org.uk/fundraising-and-events/all-events/relay-100 to read more about this event.
**
Easing out of lockdown, with great care. Some arrangements for places of worship have changed this week, but with the advice that where the Indian variant of Covid-19 is in many areas, we should not change practices. For now, therefore our arrangements remain unchanged with the following exceptions: 1. Communion is recommended to be distributed in the hand, but if people wish to receive on the tongue, then they MUST wait until the end of the communion line and receive then. / 2. Baptisms, weddings and other stand-alone celebrations up to 30. / 3. Funerals at La Salette up to 150.
**
Please note the general guidance for the safety of those participating in acts of worship have to be strictly adhered to. Our church is sanitised after each mass and all requirements for health and safety, sanitising hands, face masks and social distancing are in place. The wearing of face coverings in church by the faithful (unless the person has a valid exemption from this regulation). Social distancing of people within the church building. Stewarding of the church premises at the entrance. Frequent hand cleansing, with sanitiser. Cleaning of the church pews after each mass. Indoor congregational singing is still prohibited at Step 3 and further guidance from Public Health England is expected before the 21 June Step 4 date is reached. The timely dispersing of the faithful after mass avoiding congregating in church entrance. Your cooperation in complying with regulations would be much appreciated.
**
Ask your MP to sign a Parliamentary motion to stop 'DIY' abortion. Carla Lockhart MP has launched a parliamentary motion calling on the Government to end 'DIY' home abortion. It is therefore vital that as many MPs as possible sign Carla Lockhart's motion to send a clear message to the Government that they must end dangerous 'DIY' home abortion services as soon as possible. Right To Life UK has launched an easy-to-use tool which makes it simple for you to send an email to your MP asking them to sign the motion. Please click the link below to contact your MP now. It only takes 30 seconds! www.righttolife.org.uk/DIYmotion

**
Please call us if you need to, or if you know someone who does need a priest. We may not know that you need a priest or are sick unless we are told. We are able to make emergency and end of life visits.
**
Parish Finance. Thank you very much for your continued support of the parish. It is really appreciated in these difficult times. If your circumstances permit and you wish to contribute to the parish income, you can drop an envelope through the presbytery door. There is possibility to donate online, please visit this link: www.dioceseofbrentwood.net/donations/rainham * Some parishioners have put a Standing Order in place, forms available from the sacristy or the parish office. Thank you. If you wish to create standing order and support us regularly please complete the standing order form (CLICK HERE) and return it to the Parish Office. If you are a taxpayer your donation can be increased by 25%. Just download Gift Aid Declaration (CLICK HERE), print it out, complete it and return to the Parish Office. If you are already registered with our parish Gift Aid System please let us know so we can record your donation(s) accordingly.