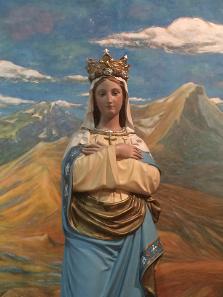 6th Sunday of Easter, 22.05.2022
We have re-introduced offertory procession with the gifts during Saturday vigil/Sunday masses. If you wish to take up the gifts please let us know before Mass.
**
There will be a BAG-2-SCHOOL clothes collection on 22nd June (change of date). This is a fund-raising event shared between the school and the Parish. It is a chance to clear your wardrobes of out-dated, out-grown, or bad-buy clothes, including hats, shoes, belts. No bed linen or soft furnishings. Please start looking now, and bring your donations the weekend of 18/19 June or Wednesday 22nd June before 9am.
**
First Holy Communion Masses. Please pray for the 46 children who made their first Communion recently, and for their families. A big thank you to the catechists for their effort and help.
**
Parish Meetings: Eucharist Ministers Monday 23rd May at 7.30pm. It is important that ALL Ministers attend this meeting as there will be important changes to be observed as from the following weekend. Please advise the Priests if you are unable to attend. / Parish pastoral Council Monday 30th May at 7.30pm
**
ALTAR SERVERS. Please collect your new rota from the bench in the sacristy.
**
5th June – Pentecost – Confirmation Mass – change of mass time. Please note Confirmation Mass on Sunday 5th June will be at the earlier time of 10.30am. Candidates and altar servers must arrive by 10.15am at the latest.
**
Changes in the porch of the church. As from this weekend you will find it easier to access the Holy Water and the Mass and Hymn books as Newsletters and hand sanitisers are now placed on the worktops under the noticeboards on the back wall. Please ask permission before adding any posters or information to the worktops or noticeboards. Stewards are no longer required in the porch. Many thanks to those who have been stewarding during the pandemic.
**
SUNDAY MASS. We have just received a directive from the Bishops' Conference on 6th May that the obligation to attend Sunday Mass has been restored and that those who are able to attend must do so.
**
FLOWER FESTIVAL " Peace, Hope & Resurrection": 27th-29th May 2022 at St Edward's RC Church, Park End Road, Romford. You are cordially invited to come and see a beautiful selection of flower arrangements in the tranquil setting of this Church. Opening hours: Fri & Sat 10.00am – 4.00pm, Sunday 1.00pm -4.00pm. Refreshments available. Free admission. Voluntary donations. All welcome.
**
Vocations. There is a monthly vocations group to help those who would like to find out more about a possible vocation to the priesthood. There will be a talk, a time of prayer and some food. The sessions take place at St Edmund of Canterbury Church, 9 Traps Hill. Loughton IG10 1SZ / Tuesday 4th June 7pm / Tuesday 2nd July 7pm. If you would like to join us or to find out more please get in touch with the Vocations Promoter. Fr Mark Swires: vocprom@dioceseofbrentwood.org
**
Director of Finance Required from June 2022 £63,000 - £68,000. The Campion School is looking for a talented, committed, enthusiastic and innovative colleague to work at a senior level to support the strategic direction of the school through high-quality financial management. Candidates are expected to have the relevant experience and qualifications and should be able to demonstrate outstanding financial, project and administrative management skills. They should also demonstrate an ability to work effectively with all members of the School community, showing initiative and independence when needed. Excellent communication skills and a willingness to respond to and be involved in the daily life of the School are essential. Please contact cnoddings@thecampionschool.org for application details and more information. Closing date for applications 12 noon, Friday, 27th May 2022'
**
Homes for Ukraine: register your interest. If you want to offer a home to people fleeing Ukraine, you can become a 'sponsor' as part of the Homes for Ukraine scheme. Use this service to register your interest in becoming a sponsor. You can register as an individual or as an organisation. Who can register their interest? Anyone in the UK with a spare room or home can register, as long as: you can offer accommodation for at least 6 months, if you're not a British citizen, you have leave to remain in the UK for at least 6 months. What happens next… The Department for Levelling Up, Housing and Communities (DLUHC) will contact you about your interest. You'll then need to apply to be a sponsor. You'll be paired with someone needing somewhere to live if your application is successful. DLUHC will carry out checks on both sponsors and people seeking to come to the UK, including the standard of accommodation. This may include a visit to your home. Sponsors will also get a support pack. This is a Phase 1 of the government's scheme which has focussed on individuals who are able to host refugees in their home and who have a named person or family in Ukraine they wish to welcome. The government has indicated that phase 2 and 3 will come soon. La Salette parishes in Poland look after a number of Ukrainian refugee families. More questions answered, visit <THIS LINK> If you are thinking about registering your interest "Homes for Ukraine" please speak to one of the priests. With the help of our La Salette parishes in Poland we will be able to find a family or families to suit your accommodation suitability and it will make much quicker process for visa applications from Ukrainian applicants who have named people in the UK willing to sponsor them. We are already working with couple of English families who express wish to house Ukrainian refugees. Thank you
**
Please pray for the sick of the Parish, at home or in hospital. Alda Allen, Theresa Anatole, Mary Bullivant, Cecelia Dunning, David Kowalski, Harry O'Connor, Jean Shaw, Josie O'Dow.
**
The Visiting of the Sick by our Priests, has resumed and will continue on the 1st Friday of each month. If you, or a member of your family, would like a visit, please let one of our priests know.
**
La Salette Club New Opening Hours: Friday 7pm-11pm /Saturday 12pm -11pm / Sunday 12pm-10.30pm / Club is closed from Monday to Thursday // Barrie's next Quiz will be held on Friday 13th May at 8.30pm / Mick's next Quiz will be held on Thursday 26th May at 8.30pm /// Saturday Entertainment – various Groups each week. / Sunday evening BINGO in the Lounge at 7.30pm.
*****************
Confirmation Youth: confessions and rehearsal: Thursday, 2nd June at 7.00pm
*****************