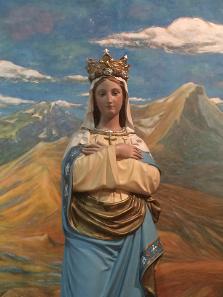 7th Easter Sunday, 24.05.2020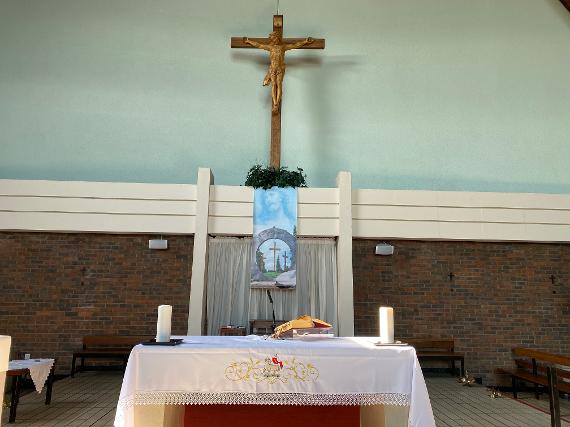 Due to the most recent government measures, La Salette Church will remain closed until further notice.
Message from the priests. In 2013 Jeanne Socrates from Hampshire completed non-stop, unassisted 320-day sail around the world alone, such a achievement for a 77 years old woman. We are familiar with the frequently used saying 'to come full circle', which means that people having set out on a journey or task, have returned to where they started. They have successfully completed the cycle and are back at the beginning. This applies to our thoughts about Jesus in this time of Eastertide. Today is the 7th Sunday of Easter and in a sense, Jesus is about to come full circle because, having come from the Father for a specific mission, he returns to the Father having achieved what he was sent to do. And he was sent to save us from spiritual death and alienation from God. But in another sense, this Sunday marks the passing on of the baton by Jesus to his apostles. "I am not in the world any longer, but they are in the world" In his public ministry, Jesus preached that the kingdom of heaven was close and he had challenged people to repent of their sins and believe in the Good News. Well now the responsibility for that ministry was being passed on to the apostles but also to us all too. We are evangelisers of others and the Holy Spirit will guide us in this task of spreading God's word. We hope you and your Family are well and safe, and we continue to pray for all your intentions at our private masses during the Exposition of the Blessed Sacrament every evening from 7pm-8pm. We hope to see you soon at La Salette. God bless you all, Fr Mariusz and Fr Kris
Important - First Communion Children. Please collect your Easter Egg form the church entrance THIS Saturday from 10am-12pm and THIS Sunday 24th from 9am-12pm. Church will be open, no need to come to the presbytery. Thank you
Please pray for Tracey Chesher who passed away recently. Our prayers and thoughts are with her husband Michael and his Family at this sad time. Private funeral will take place on Tuesday 26th May. May Tracey and all our faithful departed rest in peace.
Please pray for Patricia Mary Jenkinson who passed away recently. Our prayers and thoughts are with her Family. Private funeral will take place on Wednesday 3rd June. May Mary and all our faithful departed rest in peace.
For those who wish to make donations on line, the online donation facility is now available, and can be accessed via the Diocesan website: www.dioceseofbrentwood.net/donations/rainham. Thank very much to all the people who have already made online donations and those who put their donations through the letter box. We really appreciate this.
5921 Draw. Please be reminded that your money is due now, just drop it through the letter box at the presbytery front door. The winners for the period will receive their winnings in the not too distant future. Thank you for your support. Derek
Masses streamed online. Our Lady of Good Counsel, Wickford: to watch live, visit this LINK // Ss. Peter&Paul, Ilford, to watch live, visit this LINK. // another websites: www.wordonfire.org/daily-mass or www.churchservices.tv
Spiritual communion prayer: My Jesus, I believe that you are present in the most Blessed Sacrament. I love You above all things and I desire to receive You into my soul. Since I cannot now receive You sacramentally, come at least spiritually into my heart. I embrace You as if You were already there, and unite myself wholly to You. Never permit me to be separated from You.
Prayer against the Coronavirus. Most Glorious Queen of Heaven & Mother of God, You whom the Blessed Trinity has crowned with unequalled glory. You are the Queen over all God's Creation. I place myself and all my loved ones under the power, protection and sovereignty of your grace. Under the protection of your grace and through your immense intercessory power, I ask you to spare us all from the effects of the coronavirus. Dearest Mother, Our Lady of La Salette, we, your children in Christ Jesus, ask you to obtain for us an end to the spread of the virus. Through Christ our Lord. Our Father…. Hail Mary…..
A Prayer for our Healthcare workers during the Coronavirus. Loving God, we place into your care all our doctors, nurses and healthcare workers. Give them courage of heart and strength of mind and body. Keep them safe from harm. May they know our deep gratitude for all they are doing to heal and help those affected by the coronavirus. God of all consolation may they know your protection and peace. Bless them in these challenging days and bless their families. Amen.
The parish office. Due to changing situation, a decision has been taken to close the parish office for the coming weeks. In cases of emergency only, please call 01708552897 or mobile no 07528744842. You can email us rainham@dioceseofbrentwood.org All updated information will be posted on the parish website.
Mass Intentions. During this time when public Masses not being celebrated, if you had a Mass intention booked for a particular date, please be assured that the Mass intention will still be offered privately by a Priest. Mass intentions will be published on the parish website. If you want to book a mass intention, please place your intention to an envelope with your offering and post it through the letter box in the presbytery.
Decree of the Apostolic Penitentiary on the granting of special Indulgences to the faithful in the current pandemic: open THIS LINK.