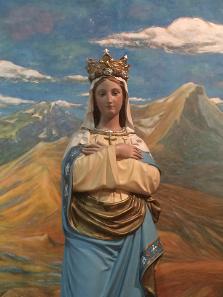 1st Sunday Of Advent (B), 29.11.2020
THE CELEBRATION OF MASS. Following the recent government announcement, we are delighted that public worship will once again be allowed to recommence after the current lockdown ends on 2nd December. This is wonderful news as we begin our Advent preparations to celebrate the birth of Jesus. Public celebration of masses at Our Lady of La Salette will resume NEXT Wednesday 2nd December at 8.30am. Weekday and weekend masses will be celebrated in normal times. The past month has been an intensely challenging time for all of our communities and it is very welcomed news. Please note that this is effectively return to the COVID-19 secure protocols that existed in our churches at 5th November 2020. It is important to emphasise that there should be no easing off on the restrictions of good practice to keep our church a safe building for all worshippers. Please read the following: 1. Worshippers should limit their interactions with anyone they are not attending church with, i.e. if they are attending corporate worship with one other household, wherever possible they should maintain social distancing with anyone outside of this group. 2. Please stay at home if you or someone you live with starts to show symptoms: a high temperature, a new, continuous cough, a loss of, or change to, your sense of smell or taste or you have been in contact with someone who has the virus. 3. As you enter and leave the church please sanitise your hands. Alcohol hand gel is provided at doors. The toilets are not be available at this time. 4. Face coverings are mandatory It is now a legal requirement that facemasks or coverings are worn when in a place of worship. These need to cover your mouth and nose, keep at least 1m distance from each other (all pews are marked for seating). 5. When you come to church please take your seat in the middle of a pew if possible so that other people will not have to step over or pass close to you as they seat in the same pew. 6. You cannot receive the Holy Communion on the tongue at this time. Please hold your arms at full length and have your palms flat so that the priest can place the Body of Christ onto your palm for you to consume reverently. We are looking for more stewards at the front door and helpers to clean the church after every mass. If you can help please contact us via email rainham@dioceseofbrentwood.org or phone 01708552897
**
Exposition of the Blessed Sacrament. During Advent we will continue private prayer before the Blessed Sacrament until Christmas Monday to Friday 7.00pm to 7.45pm.
**
Please note that due to circumstances there will be NO Advent parish reconciliation service. Confessions will be heard on Saturday 8.30am-9.00am and 5.30pm - 6.00pm and Monday to Friday 7.00pm-7.45pm until Christmas.
**
Given the social distance restrictions and the importance of minimising the risk of infection spread, we have to limit the numbers of people who can attend at each Mass at Christmas. We therefore put an extra mass on Christmas Eve at 6.00pm.
**
Masses at Christmas. Christmas Eve masses 4.30pm and 6.00pm / Midnight Mass as normal but carol singing before mass yet has to be decided / Christmas Day Masses 9.00am and 11.00am / Boxing Day mass 9.00am and Vigil of the Holy Family Feast mass at 6.00pm
**
Primary school applications "Certificate of Catholic practice". Fr Mariusz will meet parent/parents in the parish hall on Monday 7th December from 6.00pm-7.00pm Please have a copy of your child's Baptism certificate. Please wear a face mask, social distance and hand sanitise when you enter the hall and when you leave. Thank you. If you have decided to apply for a non-Catholic school and it requires priest's confirmation of the practice of your Catholic Faith, please bring the relevant document with you to the meeting.
**
Brentwood Diocesan Directory 2021. Directories are now available on leaving the church and please leave your donation in the papers box. They cost £2.80 each, thank you.
**
PARISH FINANCE. Thank you very much for your continued support of the parish. It is really appreciated in these difficult times. If your circumstances permit and you wish to contribute to the parish income, you can drop an envelope through the presbytery door. Some parishioners have put a Standing Order in place. If you wish to create standing order and support us regularly please complete the standing order form (click this link) and return it to the Parish Office. If you are a taxpayer your donation can be increased by 25%. Just download Gift Aid Declaration (click this link), print it out, complete it and return to the Parish Office. If you are already registered with our parish Gift Aid System please let us know so we can record your donation(s) accordingly.
**
Government Consultation on Faith Engagement. There was a strong ask from the officials of the MHCLG for individual Catholics to respond to this open consultation on the way Government engages with faith communities. The link to the online submission is: CLICK HERE. This call for evidence aims to collect views to underpin the Faith Engagement Review. This call for evidence opened on 13th November and will run for a period of 4 weeks closing at 11:45pm on 11 December 2020.
**
The Catholic Union with Catholic Voices are organising a webinar on "how the government should engage with faith groups" on Wednesday 2 December at 7pm. Colin Bloom, the Faith Engagement Adviser at the Ministry or Housing, Communities and Local Government, will present and promote the government consultation on the issue. Link and registration: CLICK HERE.
**
Live stream Masses from ss Peter & Paul in Ilford, visit THIS LINK.
**
Live stream Masses from St. Cedd's Parish in Goodmayes: Monday - Saturday: 9.00am - Mass // Sunday: Masses at 9.30am & 11.30am // to wach visit THIS LINK.
**