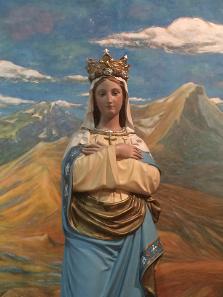 11th Sunday (Year B), 17.06.2018
We wish all those going on Pilgrimage to the Holy Land, THIS Tuesday safe travel and a Meaningful and Prayer-filled experience.
The Lectors for NEXT weekend 23rd / 24th June are: Saturday 6.00 pm – Frank / Sunday 9.00am – Lucy K / 11.00 am – Frances // N.B. When you arrive OR IF you are replacing anybody, PLEASE let the priest know that you are here!
Please continue to pray for the sick & infirm: Cecelia Dunning, Johnnie Earl, Nora Gaiger, Donna Gentle, Paul Mitchell, Tony & Maureen O'Keefe, Eddie Ryan, Lorraine Stringer, Bernadette Sullivan, Doris Youlden. May they feel the Lord's comforting presence with them at all times.
There is a 'Bags-to-School' clothes collection, THIS weekend 16/17 June. PLEASE use orange or black sacks. Have a 'Sort-Out' indoors. ONLY clothing, shoes, bags, belts. NO HOUSEHOLD FURNISHINGS. Proceeds are split between Parish and School funds. Thank you.
Fr Edward from St Peters will be saying both Masses NEXT Saturday. Fr Mariusz will away in the Holy Land and Fr Kris will be taking some altar servers to Manchester for a football tournament.
To those going on PILGRIMAGE to the HOLY LAND this Tuesday. It has been suggested that it is BEST to leave ELM PARK underground station at 8.30 am. OR get on at your nearest District Line station on that route. We need to get off at Heathrow Terminal 4. ALL of our Tickets are on a 'Block Booking' which Fr Mariusz will have. N.B. 12.25pm is the LATEST time for "Checking in".
IF any parishioners would like a MASS intention offered whilst in the HOLY LAND, Please contact Fr Mariusz by THIS MONDAY at the Latest!
Registration for the First Holy Communion Year 3 and above. Will take place on Saturday 7th July after 6.00pm mass and Monday 9th from 6.00pm-7.00pm. Parents need to be fully committed to the programme and to support their children as they deepen their relationship with Jesus, above all, by meeting Him in Sunday Mass. Families need to be registered parishioners and have been worshipping in the parish for more than 12 months. If you live outside the boundaries of the La Salette parish you will need the written permission of your own parish priest for your child to make their First Communion at La Salette
MRS ANNA FLETCHER: RETIREMENT. Mrs Fletcher will be retiring from La Salette School at the end of this term, after 24 years of dedicated service. In order to mark this occasion, we will be having a Mass, in our Church, on Thursday 12th July, at 7pm, followed by a get-together in the Parish Hall. You are all invited to attend. Please, come along and share some memories with Mrs Fletcher. Gifts will be given to Mrs Fletcher, at this event, and IF you would like to contribute, please send your donation into the School office (clearly marked). IF you wish to attend? Please fill in the slip in our Parish Newsletter (so we know how many to expect), then hand it in at the School office by 29th June.
THE LA SALETTE SOCIAL CLUB (www.lasalettecatholicsocialclub.weebly.com) Mick's next Quiz will be held on Thursday 28th June at 8.30pm. Barrie & Ed's next Quiz will be held on Friday July 6th at 8.30pm. Do come along and test your wits – keep your brain active! Sunday evening BINGO in the Lounge 7.30 pm for 8 pm. The Club Lotto is held on Sunday evening. To be in with a chance, collect an envelope in the Club, OR in the PORCH of the church, select 3 numbers from 24, put a £1 inside and place it in the Box provided in the CLUB! IF your numbers come up, from the 4 drawn you win. YOU could be lucky this week, winning part of what is taken in THIS Sunday! PLEASE do PRINT your NAME on the envelope, with contact details!
COUNTRY MUSIC CLUB: in La Salette Hall, Come and Mosey on down! Final performance, to be announced shortly.
LA SALETTE 5921 DRAW. The Winners this 8th week of our 3rd Quarter were A11 & B11 who both win £25. We now have 20 Vacancies. Would you care to take on another Number? Or could you get a Friend or Family Member to join? How about joining your fellow parishioners in this 'Fundraising venture'? A chance each week to win £25, at odds of 59 to 1; hence the title. Forms are available in the porch [£13 per quarter]. NOW is a good time to join!
Last weekend's Collections: Envelopes - £ 601-66 / Newspapers £ 9-90 / Loose Plate - £ 712-88 / Candles £67-18 // There is a 'Retiring Collection' THIS weekend for 'DAY FOR LIFE' . Had the 'Loose Collection' been in envelopes, Our Parish would have received an extra £178!
Are you aware? That there is a book, in the porch, whereby you can Donate FLOWERS FOR THE ALTAR, on a particular weekend for; a Family member, an Anniversary etc.
GENERAL DATA PROTECTION REGULATIONS (GDPR): As from 25th May there's a big change happening to privacy laws in the European Union. We can ONLY give out Personal Information/Details of Baptisms, First Eucharist, Confirmation, Marriage, Deaths etc. to anyone (over 18), personally, on proof of identity. They CAN NOT be given, electronically, over the Phone, by Post, or to a 3rd party, without written permission, (and with proof of their identity). ALSO, we cannot give out Phone Numbers, OR any other information (even IF we know you). This is in your interest and our protection. Thanking you, in advance, for your anticipated understanding of this matter.
THE GOSPEL OF MARK On Wednesdays 20th and 27th June at 7.00 p.m. Fr Adrian Graffy will lead an exploration of the Gospel of Mark, the gospel being read on Sundays in 2018. These 'Gidea Park Faith Evenings' will take place in the hall at Gidea Park Catholic Church (410 Brentwood Road, Gidea Park, RM2 6DH). Please book by email to GPstudydays@gmail.com. Refreshments provided. Admission free.
St John Bosco Children's Summer Holiday Camp: The BOYS (8-13) 21st July to 4th August, GIRLS (9-12) 4th 11th August. The 'suggested' donation is £145 for a WEEK! PLEASE see Poster in the Porch. See one of the priests, for a Booking Form.
We will be holding our 'PARISH DINNER & DANCE' on Saturday 1st December, in aid of OUR PARISH YOUTH. A 3 Course Meal, Coffee & Music. £35 per person. (Sorry No Children). Contact Barry or Kerry Seager on 550022 or 07817556628 – barryseager@msn.com