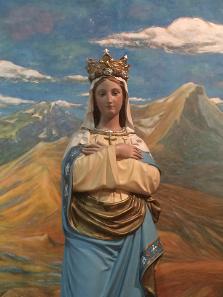 24th Sunday (year C), 15.09.2019
Novena to Our Lady of La Salette continues after 8.30am Mass.
The Triduum of Services before the Feast this year, will be held at St Peters Dagenham, as follows: Tuesday 17th at 7.30pm Story of La Salette and Rosary / Wednesday 18th at 7.30pm / Chaplet to Divine Mercy and Confessions / Thursday 19th at 7.30pm Feast Day Mass
For those not familiar with the Apparition at La Salette, there are Booklets, in the Porch which give all the details. SUGGESTED Donation £5.
There is to be a 'Pre-Bazaar Raffle' held, in the porch THIS weekend!
If you are thinking of having your child baptized in the near future, please contact one of the priests to make the necessary arrangements. You must bring the following: Your child's Birth Certificate, and proof that at least one parent is a Catholic Your Baptismal, Confirmation certificate; or a letter from the parish where you grew up that confirms you are Catholic. If you live outside our parish you must get written permission from your parish priest to have your child baptized at La Salette. Next Baptism preparation will be on Monday 30th September at 6.30pm, parents must see one of the priests to register prior to the baptism preparation session.
A Message for parents of children in Year 6: In the autumn term, you will be required to apply for a secondary school place for your child for September 2020. If your child is a baptised Catholic and you are intending to apply for one or more Catholic secondary schools, you will be required to obtain a Certificate of Catholic Practice from the priest of the church where you normally attend Sunday Mass. If you are intending to ask me for this certificate, it is most important that I know who you and your child are, and that I know that it is your usual custom to attend weekly Sunday Mass (this includes Saturday evening Mass.) Do not assume that, if you slip in discreetly at the back of church during Mass, I will recognise you. If you think I should know who you are but might have forgotten, please remind me! If you have any questions about this process, please do not hesitate to ask. Dates for signing the forms will be published soon. Fr Mariusz.
The R.C.I.A: The Rite of Christian Initiation of Adults (RCIA) is the process through in which adults are gradually introduced to the Catholic faith and way of life. Anyone interested, please contact Fr Mariusz.
LECTORS: Check the parish website for the most recent rota. Special meeting for all Lectors on Monday 30th September at 7.00pm.
A SPECIAL MEETING has been arranged for parishioners to understand the Agreement of Parish Partnership between St. Peter's Dagenham, St Alban's Elm Park, and La Salette, on Monday 23rd September at 7.45pm in the Parish hall. Comments and questions welcome.
Meetings in September: Club Directors, Monday 16th at 8.00pm: Meeting Room / Parish Partnership, Monday 23rd at 7.45pm: Parish Hall / PTA Coffee Morning, Wednesday 25th at 9.00am: School / Lectors, Monday 30th at 7.00pm: Church
Sacrament of Confirmation 2020: Registration forms will be available THIS weekend. Candidates for the Sacrament of Confirmation must be committed to practice of faith, attend Sunday mass regularly and be in year 10 or above.
YOUR PRAYERS ARE ASKED FOR: Jane Arinze, Celia Dunning, John Earl, Jim O'Hanlon, Joan Lucey, Christopher Muthike, Eileen Pereira, Lorraine Stringer, and anyone else who is suffering with anything debilitating at this time. May they feel the comforting presence of the Lord with them at all times.
THE LA SALETTE SOCIAL CLUB (www.lasalettecatholicsocialclub.weebly.com) Mick's Quiz will be held on Thursday 26th September at 8.30pm. Barrie's next Quiz will be held this Friday 4th October at 8.30pm. Sunday evening BINGO in the Lounge at 7.30pm. The Club Lotto is held on Sunday evening. To be in with a chance, collect an envelope in the Club, OR in the PORCH of the church, select 3 numbers from 24, put a £1 inside and place it in the Box provided in the CLUB! IF your numbers come up, from the 4 drawn you win. YOU could be lucky this week, winning part of what is taken in THIS Sunday! PLEASE do PRINT your NAME on the envelope, with contact details!
LA SALETTE 5921 DRAW - 4th Quarter: The Winner this week, was B30 who wins £25. A30 is vacant. We have 26 vacancies at the moment, soon to be 27! – See list in Porch. Why not join your some of your fellow Parishioners, in this Fundraising Scheme for Our Church.
The collection for last Weekend: Newspapers: £ 11-20 / Envelopes: £ 469-50 / Candles: £ 74-76 / Loose £ 1,191-02 / Catholic Education Service £ 204-07 / There is a Retiring Collection THIS weekend for Home Mission Day.
IF the loose money in the Collection had been in envelopes, our Church could have received an Extra £297! Why not join our GIFT AID SCHEME. Are you a TAXPAYER? If so why not join your fellow Parishioners and join the Scheme! Please get in touch with John Burke, the gift aid organizer, on 522997 or email rainham@dioceseofbrentwood.org
There are still some ALTAR SERVERS rotas in the Sacristy waiting for the last 3 weeks to be collected. If you no longer wish to serve please let us know. If you have not served in the last 2 months you will be taken off the next rota.