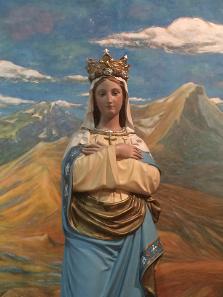 We extend our deepest sympathies to Jean Shaw and her family. May the soul of her brother Jim be at peace with our Heavenly Father.
Welcome back to those of you who are returning to the celebration of Sunday Mass as we ease out of lockdown. It is a blessing to see the parish family slowly coming together again in our church where we give thanks to God as a Christian community and receive His abundant graces, especially, in Holy Communion. Please continue to respect all the safety guidelines and act responsibly.
Readers. Thank you to all those who are able to cover. You all should have received by email the rota until October. It is important that you put your date in the diary, the new rota will be emailed to you all early October. Please turn up at least 5 minutes early to inform the priest that you are present. The is on our website and copies are available in the sacristy. Thank you
Catholic School applications. If you are applying for a primary or secondary Catholic school with your child starting in September 2021, you will need a Certificate of Catholic Practice singed by your priest. Fr Mariusz will be available only at the following times in the Parish Hall to see parents who are known to him and who are practicing their faith every Sunday. If you have chosen not to practise your faith, please apply directly to the Catholic school of your choice. If you have decided to apply for a non-Catholic school and it requires priest's confirmation of the practice of your Catholic Faith please bring the relevant document with you to the meeting. Secondary school applications Monday 19th October 6.00pm -7.15pm.
Next Saturday 19th September at 6pm mass and Sunday 20th at 11am mass children will be making their First Holy Communion. Some children will be making their Communion next year. With all Covid19 restrictions First Communion mass will very different to what we had in the past, please pray for children and their parents as they take this important step in their faith. We some extra families attending Communion masses you may consider to attend 9.00am Mass next Sunday.
Sacrament of Reconciliation is available on Saturdays from 8.30am-9.00am and 5.30pm-6.00pm. Following a strict hygiene and observance of social distancing it will be offered in the reconciliation room as normal. All parish activities other than celebration of Masses will remain suspended at this time until further notice.
//
Our Social Club is temporary closed.
//
For those who wish to make donations on line, the online donation facility is now available, and can be accessed via the Diocesan website: www.dioceseofbrentwood.net/donations/rainham. Thank very much to all the people who have already made online donations and those who put their donations through the letter box. We really appreciate this.