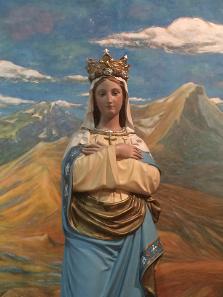 THANK YOU for your co-operation and understanding at Saturday/Sunday Masses. Doing things in an ordered fashion means that we can minimise the risk of infection and maximise the numbers of people who can attend Mass. Please do read the information below for details of the things that we must continue to do at every Sunday Mass. (there will be a link attached on parish website that we have already in place at La Salette)
Next weekend Track and Trace will be introduced at La Salette. Track and Trace is a key part of the country's ongoing COVID-19 response. If we can rapidly detect people who have recently come into close contact with a new COVID-19 case, we can take swift action to minimise transmission of the virus. This is important as lockdown measures are eased and will help us return to a more normal way of life and reduce the risk of needing local lockdowns in the future. By maintaining records of mass attendees and sharing these with NHS Test and Trace where requested, you can help us to identify people who may have been exposed to the virus. Containing outbreaks early is crucial to reduce the spread of COVID-19.
We can all can play a significant role in stopping the spread of COVID-19, so it is important that we take this seriously. Therefore, until further notice, after attending mass, please take an information card, complete the details at home and put it into the box provided in the church entrance when you next attend mass. The cards will be stored in a secure place for 21 days and destroyed after that. If you forget to bring the card to mass, you can fill it out on the day, however you will need your own pen to do this. Thank you
NOTICE FOR PARISH WEBSITE/NEWSLETTERS. TO OUR CATHOLIC UNIVERSE AND CATHOLIC TIMES READERS IN THE PARISH:- at the moment you are unable to collect your paper at Mass, but you can get it delivered direct to your home every week, POST FREE. Please go to www.thecatholicuniverse.com or call them on 0161 820 5722 and they will arrange for you. SPECIAL OFFER 3 MONTHS :-£18.00or 12 Months:- £72.00.
Missing Child. Please see the photograph and poster attached about a missing 15 year old girl. This information was sent to CSAS from the Metropolitan Police for distribution to Catholic churches as Sophie used to go to church and attends a Catholic school. She has been known to use other names and dates of birth. (photo attached, OPEN THIS LINK)
Thanks to our team of 'church stewards'. There must be two stewards on duty for every mass, Saturday evening and Sunday morning. We need more volunteers, who would be prepared to come about 30 min before each mass to be at the entrance of the church. If you can help please contact us via email or speak to the priest after mass. After each mass we need to do a light cleaning of benches, kneelers, etc. your help will be greatly appreciated. Thank you
//
Baptism. We can celebrate sacrament of baptism now only with immediate family. Baptisms will be offered during the weekday and outside mass celebration.
//
Please note. There will be NO newsletter until further notice.
//
Gift Aid. If you are part of our Gift Aid scheme, and you make offering on line to the parish then please also add your Gift Aid number (GA) or example: Smith J GA 999 By entering this reference our Gift Aid Organiser will be able to make sure that your donation is increased in line with the Gift Aid regulations. If you are a tax payer we encourage you to join Gift Aid scheme for every £1 donated your offering is increased by 25p. Gift Aid form is attached. New Gift Aid declaration form available HERE. If you prefer to pay directly to Our Parish account, use the following details Catholic church of Our Lady of La Salette sort code 40-13-22 Account no 31372122. Thank you
//
La Salette church re-open, all very important information, please open THIS LINK.
//
Please remember. The obligation to participate in Sunday Mass is still lifted by Bishops of England and Wales to those whose utmost concern is the health and wellbeing of our parishioners. Therefore, those who are feeling ill, or who have symptoms of fever, dry cough or sore throat should not come out to Mass but watch live streamed Mass from home.
//
Sacrament of Reconciliation is available on Saturdays from 8.30am-9.00am and 5.30pm-6.00pm. Following a strict hygiene and observance of social distancing it will be offered in the reconciliation room as normal. All parish activities other than celebration of Masses will remain suspended at this time until further notice.
//
Our Social Club re-opened. All important information, open THIS LINK.
//
Message from Archbishops, open THIS LINK.
//
La Salette school are asking for donations of the following: tickles / balance bikes / peddle bikes / cars / dinosaurs / ponies / plastic dolls / little tyke (outdoor play car) / water/sand tray / lego/duplo / construction toys. Please can they be in good working condition, suitable for children ages 3-7 to use.
//
Covid holiday scams, more info - open THIS LINK
//
Track and trace scams, more info - open THIS LINK
//
Mass streamed online from ss Peter&Paul Parish in Ilford (Mon - Friday at 9.30am; Sat. at 6.00pm; Sunday at 9.25am): open THIS LINK.
//
For those who wish to make donations on line, the online donation facility is now available, and can be accessed via the Diocesan website: www.dioceseofbrentwood.net/donations/rainham. Thank very much to all the people who have already made online donations and those who put their donations through the letter box. We really appreciate this.
**
Spiritual communion prayer: My Jesus, I believe that you are present in the most Blessed Sacrament. I love You above all things and I desire to receive You into my soul. Since I cannot now receive You sacramentally, come at least spiritually into my heart. I embrace You as if You were already there, and unite myself wholly to You. Never permit me to be separated from You.
**
Prayer against the Coronavirus. Most Glorious Queen of Heaven & Mother of God, You whom the Blessed Trinity has crowned with unequalled glory. You are the Queen over all God's Creation. I place myself and all my loved ones under the power, protection and sovereignty of your grace. Under the protection of your grace and through your immense intercessory power, I ask you to spare us all from the effects of the coronavirus. Dearest Mother, Our Lady of La Salette, we, your children in Christ Jesus, ask you to obtain for us an end to the spread of the virus. Through Christ our Lord. Our Father…. Hail Mary…..
**
A Prayer for our Healthcare workers during the Coronavirus. Loving God, we place into your care all our doctors, nurses and healthcare workers. Give them courage of heart and strength of mind and body. Keep them safe from harm. May they know our deep gratitude for all they are doing to heal and help those affected by the coronavirus. God of all consolation may they know your protection and peace. Bless them in these challenging days and bless their families. Amen.
**
Decree of the Apostolic Penitentiary on the granting of special Indulgences to the faithful in the current pandemic: open THIS LINK.